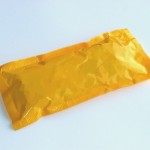 Some thoughts (and images) of minimalism. Not so much minimalism as a design endgame, but more what still remains when you reduce what you're used to seeing to just its bare bones.
How many (or few) elements of a recognizable brand does it take to recognize it?
Mr. Muscle, M&Ms, Muppets and more after the jump…
Josef Schulz's "Sign Out" series strikes me as being all about what ojects designed to say something say when they're not saying anything.
Derek Stroup's "Candy" images, on the other hand, makes one realize just how iconic some of these brands are. Eleven candy bars, and I bet almost all are recognizable to you still, even with almost all the packaging elements removed.
Antrepo Studio's label experiment, which feels a touch art-school-assignment, shows alternate, simpler labels for Mr Muscle, Durex, Red Bull and other brands, prompting thoughts about the line between simple/impactful and just generic.
And last but not least, Minimalist Muppets! (And here's the cheat sheet if there's one you can't figure out and it's driving you nuts).