Frank Family Vineyards Adds Davey Award to List of Accolades
Posted in Results — Nov 29, 2017
The Academy of Interactive and Visual Arts selected Frank Family Vineyards as a Silver winner for the 13th annual Davey Awards. The award adds to a growing list of honors for the site, including Outstanding Website at the 2017 Web Marketing Association's WebAwards, a 2017 Communicator Award, and a Communication Arts Webpick of the Day.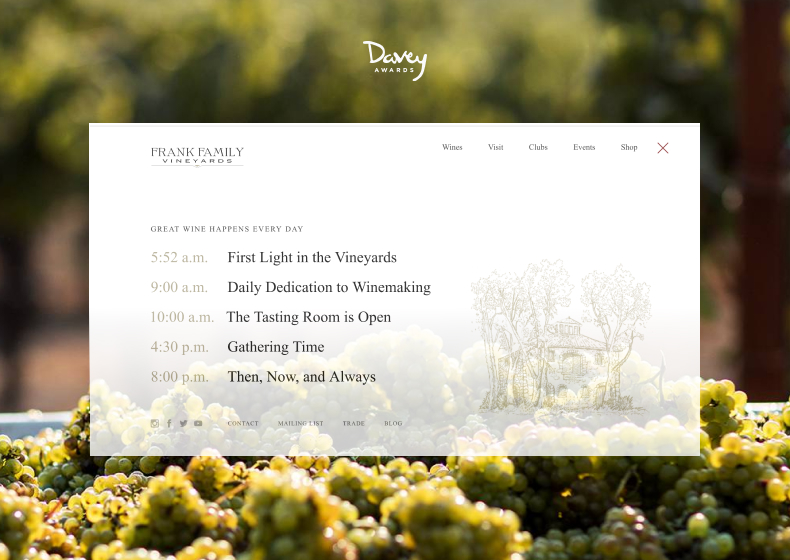 Frank Family Vineyards is a family-owned winery with a people-first intention, and its new website tells the story of a kind of hospitality where every guest is invited into the day-to-day winery experience like an extended member of the family.
We're excited to celebrate another win for the brand sharing a familial experience made even better with great wine.
About Davey Awards
With nearly 4,000 entries from across the U.S. and around the world, the Davey Awards honors the finest creative work from the best small agencies, firms, and companies worldwide. The Davey Awards is judged and overseen by the Academy of Interactive and Visual Arts (AIVA) — a 700+ member organization of leading professionals from various visual arts disciplines, dedicated to embracing progress and the evolving nature of traditional and interactive media.
Credits:
Agency: FINE
Client: Frank Family Vineyards
Project Director: Allyson Marrs
Creative Director: Tsilli Pines
Designer: Arune Suvanvej
Developers: Emmanuel Garcia and Niles McGiver
Copywriter: Allyson Marrs
IA: Lisa Wright