Montreux Equity Partners: A Healthcare Leader Gets A Digital Transfusion
Posted in Work — Nov 12, 2013
[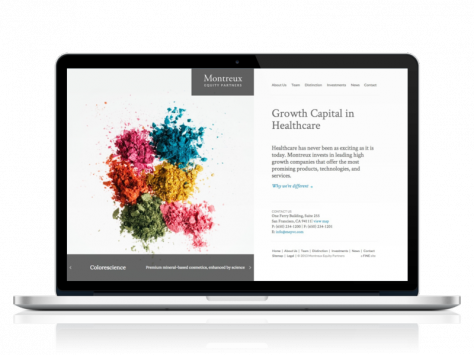 ](http://blog.finedesigngroup.com/2013/11/montreux-equity-partners/montreaux-equity-homepage-laptop/ "")
Montreux Equity Partners is a private investment firm dedicated to building the leading healthcare companies of tomorrow. They came to FINE looking to breathe new life into their online presence and tout their growth into new office space in San Francisco's Ferry Building. More than that, they needed an online presence to convey their position of leadership in the investment marketplace, and demonstrate their design and technology savvy to prospective entrepreneurs.
The resulting design features bold and bright imagery of high tech devices and notable San Francisco landmarks, balanced with important information about Montreux, its history, and the special attention provided to each investment partner. Their portfolio comes to life through interactive tiles with a company logo and a summary of marketplace niche.
The news section is presented like a high profile blog, with a downloadable PDF feature for anyone in need of a physical press release copy. Each team member has a profile page with a glowing headshot, name, title, and experience summary.
With the launch, Montreux moves into a sophisticated new digital home concurrent with its impressive offline digs. They are now set up to continue leading the charge in their growing industry, while fully looking the part.