Klin Groupe: The Revolution Will Not Be Compromised
Posted in Work — Sep 30, 2011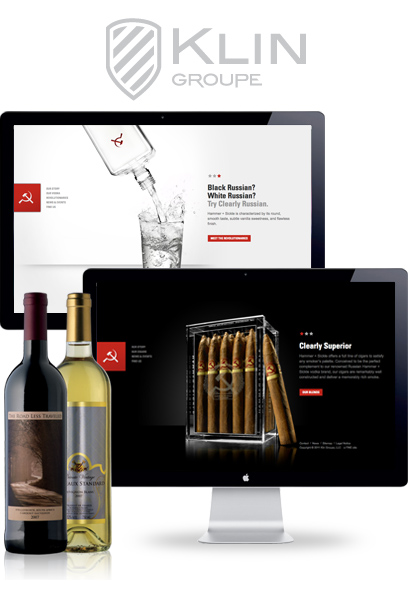 The Klin Groupe was named for the Russian town of Klin, just north of Moscow. In 2007, they brought a generations-old recipe of six-times filtered, six-times distilled vodka to market in the U.S. and called it Hammer + Sickle. Since then, they've added luxury wine and cigar brands to create a burgeoning lifestyle brand family, with a nod to their Russian roots and an uncompromising take on the good life around the world.
That new brand family comes together for the first time in a series of 6 websites launched this week, each with its own unique and complementary brand look, content style, and all bound to the same core centrally-managed data platform. Another classic example of how digital branding acts as the cohering approach to overall branding.
Here's what's involved:
Content Management System
One CMS application powers content on all 6 brand sites centrally for frequently updated areas like news, events, distributors and trade resources.
Corporate Site
The parent company website provides an introduction to all the imported brands Klin owns and manages, aimed more at trade orientation (with a password-protected area just for them) but with imagery and tone that establish Klin's presence as a consumer products company.
Hammer + Sickle Vodka
This site establishes Klin's flagship brand. The billboard-style design, with carefully selected images that emphasize the product's distilled purity and ad copy headlines (written by FINE), give H+S a unique tone for those who are serious about authentic vodka but like a little Russian wit.
Their most popular and widely distributed brand in the US can be found in all 50 states. and a Find Us page with a state-selection drop-down menu will help when you need to do just that.
A strong feature of the site is the "Revolutionaries" section where they showcase real bartenders across the U.S., with their portrait, quote and unique recipes (in expandable/collapsable drawers). This section uses cool parallax scrolling in carousel format. When you click on the different stars, a new bartender shows up with the background image, portrait, and content appear/disappearing at different speeds.
On the Vodka page, a "Try Our Cigars" button anchored to the right of the browser allows users to toggle between these 2 Hammer + Sickle brands.
Hammer + Sickle Cigars
The Hammer + Sickle cigars site is dedicated to this "sister" brand in the Hammer + Sickle line. It functions similar to the Vodka site, except in inverse colors (black) that emphasize the more brooding sensibility of this smoky cigar brand. Their cigar blends are named for Eastern block cities, and the overall effect of the site builds off the "Great Cigars Carry A Forbidden Air" theme and feel. A "Try Our Vodka" button connects from here back to H+S Vodka.
Klin Wines: Bordeaux, Winter Hill, Road Less Traveled
Rounding out the Klin brand family are three distinct wine brands and their associated websites. Keeping the family together, the sites use a similar layout to each other and to the other Klin brands, but depart radically when it comes to color, styling, content, and imagery. Each is a simple but dramatic representation of the wine brand it features.
It's just the first wave of what we hope will continue to be an evolving and successful Klin Groupe digital ecosystem.
Vashe Zdorovie!