Domaine Carneros: Great Wines of a Great Place
Posted in Work — May 06, 2014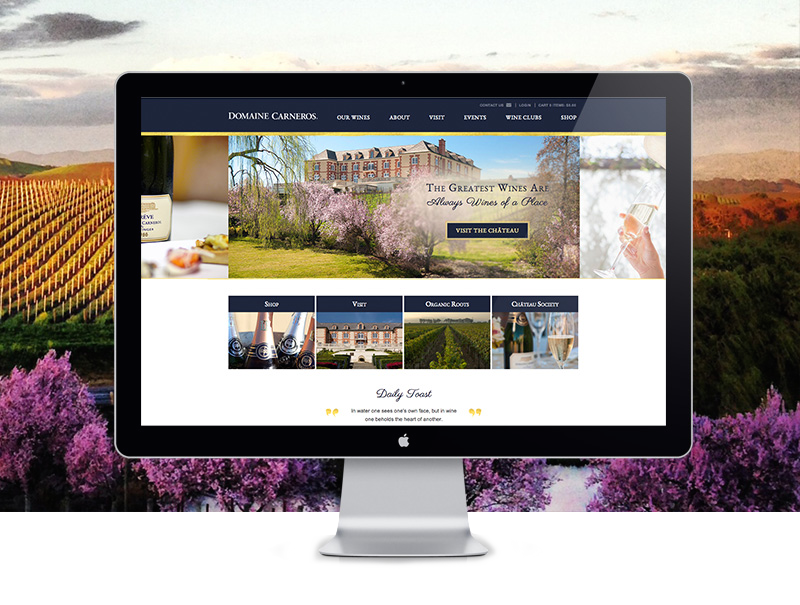 Founded by the family behind Champagne Taittinger, Domaine Carneros is a Napa Valley winery best known as a grower-producer of methóde champenoise sparkling wine, Pinot Noir, certified organic estate vineyards, and a breathtakingly beautiful château.
The château is their physical home, but it also inspires their wines – as they say, "The Greatest Wine are Always Wines of a Place" – and their online location. The visceral impact guests experience when visiting the château and drinking wine was the guiding spirit for this digital presence.
The new, simplified design pulls in the brand's navy, gold, and white color scheme to frame sunny images from the estate. Website content and design stays simple, allowing grand images of the estate, in slideshow format or as a seamless part of the navigation, to get full attention.
The images throughout are both aesthetically striking and functional as navigational tools so visitors can rollover and navigate to desired content. This becomes especially useful in the mobile version of the site.
The navigation presents opportunities for visitors to shop for their favorite wines, visit the estate, and connect with the wine community through Domaine Carneros events and their elite wine club Château Society.
Along with its stunning château, it's the land and location that evokes the brand, and even the taste of Domaine Carneros wines. Their La Terre Promise vineyard, for instance, sits on the landscape seen on Windows computer screens all over the world for decades. It said by some to be the most-viewed photograph in the history of the world.
You may recognize it: