Cakebread Cellars: Where Great Wine, Great Food, and Great People Interact
Posted in Work — Nov 20, 2013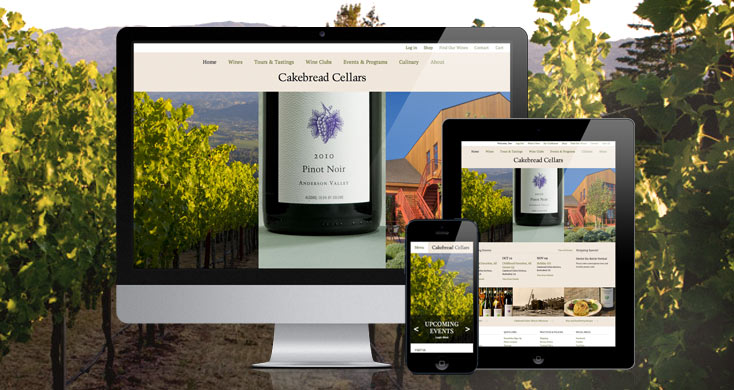 The belief that life is elevated by good people, good food, and good wine flows through the Cakebread Cellars family winery. It's what's guided them to become one of the most successful and respected wine brands in America. And it's what guided the design and development of their new digital brand presence.
On both desktop and mobile, the new sites enhance the Cakebread family's personal connection with customers, and more effectively share their history and lifestyle. The design complements the elegant simplicity of the famous Cakebread label, and the unpretentious nature of the brand. Bold, open layouts and imagery invite you to explore content for wines, food and fun.
Join The Cakebread Club
Wine Club members get the special attention you'd expect from a brand that takes things personally. Members are prompted to login upon arrival, and then see custom messages and content specific to them and their interests, updates on shipments, events in their area, or even a recipe to complement a wine they've recently received.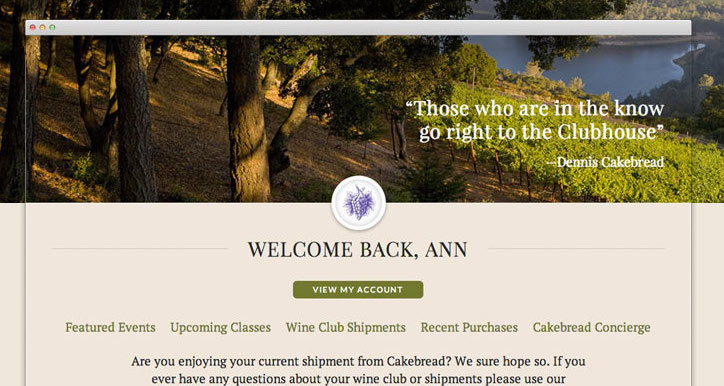 Little Things Mean A Lot
Small intuitive features make the site even more hospitable. One small example: "drawers" slide open and closed with a click to allow exploration of longer content without leaving a page or using a back arrow. This finds its greatest use in the Wine section where visitors can peruse the entire collection without interruption by sliding drawers to reveal detailed tasting notes, food pairings, winemaking technique, and more.

Share History, Or Just A Meal
A virtual timeline relays Cakebread history with images from the family album, extending to present-day pictures treated with a duotone effect that give them an instant classic feel.
With enough recipes to fill their own cookbook, the Cakebread family uses the site to share their favorite meals in a robust Culinary section. It features an endless page of filterable recipes, an introduction to the winery chefs, and information on the winery's signature culinary events.
From the scrolling history and calendar areas, to the accordion product and event sections, to the selected quotes from family members sprinkled throughout, visitors are welcomed to the Cakebread fold. Video, social media, photo gallery, and commerce integrations highlight and enrich the experience and show off Cakebread's trademark inclusive approach.