PAE Engineers Wins B2B Standard of Excellence at 2017 WebAwards
Posted in Results — Sep 27, 2017
PAE Engineers and the FINE team won another award for PAE's innovative website, garnering the B2B Standard of Excellence at the Web Marketing Association's 2017 WebAwards — the longest-running annual website awards competition, now in its 17th year.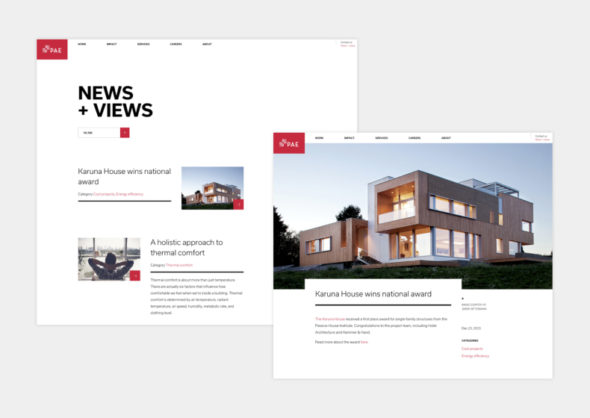 The 2017 WebAward is the latest in a string of recognitions for PAE, including the SMPS Award of Excellence, Best in Class at the 2017 Interactive Media Awards, a 2017 Stevie Award, and top marks at the Summit Creative Awards. Congratulations to the team on creating a multi- award-winning site that's become an archetype in the AED industry.
PAE Engineers is a global leader in sustainable engineering design. Their digital brand home is as bold and energetic as the work in their portfolio — a site worthy of the company that engineered the world's largest living building: Seattle's Bullitt Center.
View all winners here.
Take the Tour.
Credits:
Agency: FINE
Client: PAE Engineers
Creative Director: Tsilli Pines
Project Director: Amber Stansfield
Designer: Arune Suvanvej
Developers: Niles McGiver, Emmanuel Garcia
SaveSave