PAE Engineers Best in Class at IMA Awards
Posted in Results — Mar 10, 2017
PAE Engineers and the FINE team won huge in the 2017 Interactive Media Awards announced this week. PAE was awarded the IMA Best in Class Award - the highest honor bestowed by the Interactive Media Award - in the Building/Construction category. The site earned an overall score of 497 out of 500, including perfect scores of 100 in Design, Content, Feature Functionality, and Usability.
PAE Engineers is a global leader in sustainable engineering design, creating solutions for clients while preserving the planet. Their digital brand home is as bold and energetic as the work in their portfolio - a site worthy of the company that engineered the world's largest living building: Seattle's Bullitt Center. Museum-quality project images, cleaner navigation, user experience and design all speak to the brand's focus on simplicity, and the audience's appreciation for elegant solutions to complex problems.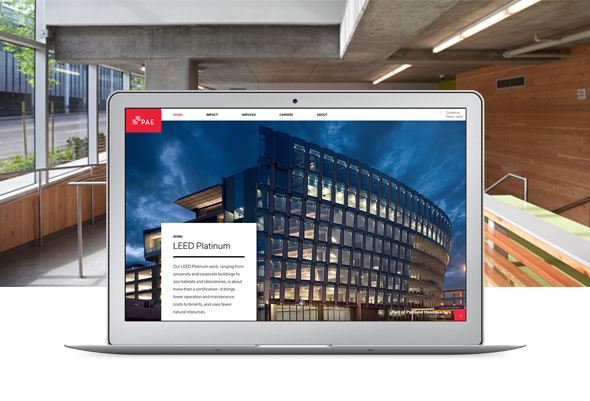 This award is a wonderful recognition of the PAE Engineer's website being an archetype not only in its own industry, but as a benchmark for AED industry digital design and development worldwide.
Congratulations to all.
Credits:
Agency: FINE
Designer: Arune Suvanvej
Creative Director: Tsilli Pines
Project Director: Amber Stansfield
Developers: Niles McGiver, Emmanuel Garcia
Information Architecture: Lisa Wright
Client: PAE Engineers