Kimpton Hotels' Prize Winning Year
Posted in Results — Jan 16, 2015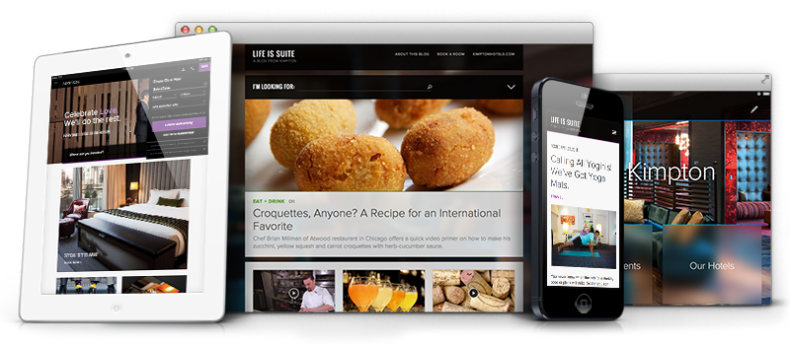 2014 was a champion award-winning year for Kimpton Hotels & Restaurants, culminating in the biggest award in their storied history – the sale of the company to Intercontinental Hotel Group for $430 Million.
Brand is perhaps the single largest driver of company valuation. A landmark study by Interbrand and JP Morgan (since echoed in other studies) concluded that on average brands account for more than one-third of shareholder value, and often well over 50%. While Accenture and others have estimated that 70% of the value of the S&P 500 is in intangibles like brand.
So it's no surprise that many non-monetary awards and recognitions tied to brand marketing initiatives preceded Kimpton's sale. Last month, the new KimptonHotels.com and Kimpton's Life is Suite blog won Gold in their respective categories in the hospitality industry's most prestigious awards—the HSMAI Adrian Awards.
Earlier this fall, KimptonHotels.com also won gold in the the Davey Awards, an honor bestowed to the "Creative Davids"— smaller firms with big ideas. In February, Kimpton picked up Platinum and Best In Show at the Adrian Awards for last year's innovative in-room yoga mat integrated campaign.
Since the launch of their new site, blog, and Kimpton Karma Rewards loyalty program this summer, press poured in. A revolutionary brand of hospitality had been re-imagined for a new breed of digital guests. The New York Times, Travel + Leisure, Skift, and USA Today were among those talking about the brand- and industry-defining changes.

The accolades are backed up by results. Early returns to the new site and program metrics show more traffic and conversion:
17+% increase in site revenue
27+% increase in mobile site revenue
25+% increase in site search traffic
75+% increase in loyalty program sign-ups
Increased brand and rate/price perception
We're proud to have worked closely with Kimpton for the last few years to help in this dramatic evolution of their brand marketing approach and to help Kimpton once again help raise the bar for hospitality brands. Ultimately, the prizes all follow from architecting, and then communicating, the kind of guest experience that makes Kimpton continually rank as a "best loved" hospitality company.
The Awards Won:
*Award of Excellence *The Communicator Awards 2015, Kimpton Hotels and Restaurants Website
Gold The 45th Creativity International Media & Interactive Design Awards 2015, Kimpton Hotels and Restaurants Website
*Gold *Adrian Awards 2014, Kimpton Hotels and Restaurants Website
Gold Davey Awards 2014, Kimpton Hotels and Restaurants Website
Gold Adrian Awards 2014, Life is Suite Blog
Platinum + Best of Show Adrian Awards 2013, Yoga Mat Campaign
The Press:
The Work: