True Hospitality: Mapping Guest Experience to Earn Extraordinary Brand Devotion
Posted in Insights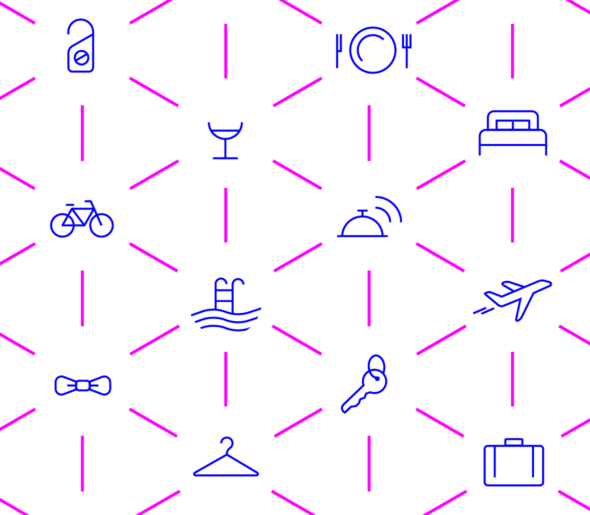 A few months ago, while following up on a project at a hotel in Portland, I noticed something unusual. A well-dressed man, in his mid-30s, was conducting a series of business meetings in the lobby. He was the consummate host, taking obvious joy in advising each of his guests on the extensive wine list and pointing out the many unique details that made the lobby so inviting: empty wine bottles fashioned into a handmade chandelier; a chalk mural outlining local wine flavor profiles; bouquets of local ferns, flowers, and moss; a classic, step-through bicycle parked against a wall. Every element added to a story playing out in this moment, in which both he and his guests played an integral part.
The man didn't work for the hotel, nor for the boutique hospitality brand behind it. But he clearly identified with something powerful in its brand expression. So much so that he'd chosen to use the hotel like an extension of his own personal brand. It takes more than typical hotel brand values like convenience and comfort to elicit that kind of devotion; it takes a distinct brand experience with a strong point of view, a capable staff consistently delivering on it, and a carefully designed, supporting environment.
What I saw in that lobby was no accident – it was the direct outcome of a methodology that brings clarity to the process of creating, implementing, promoting, and sustaining service brands.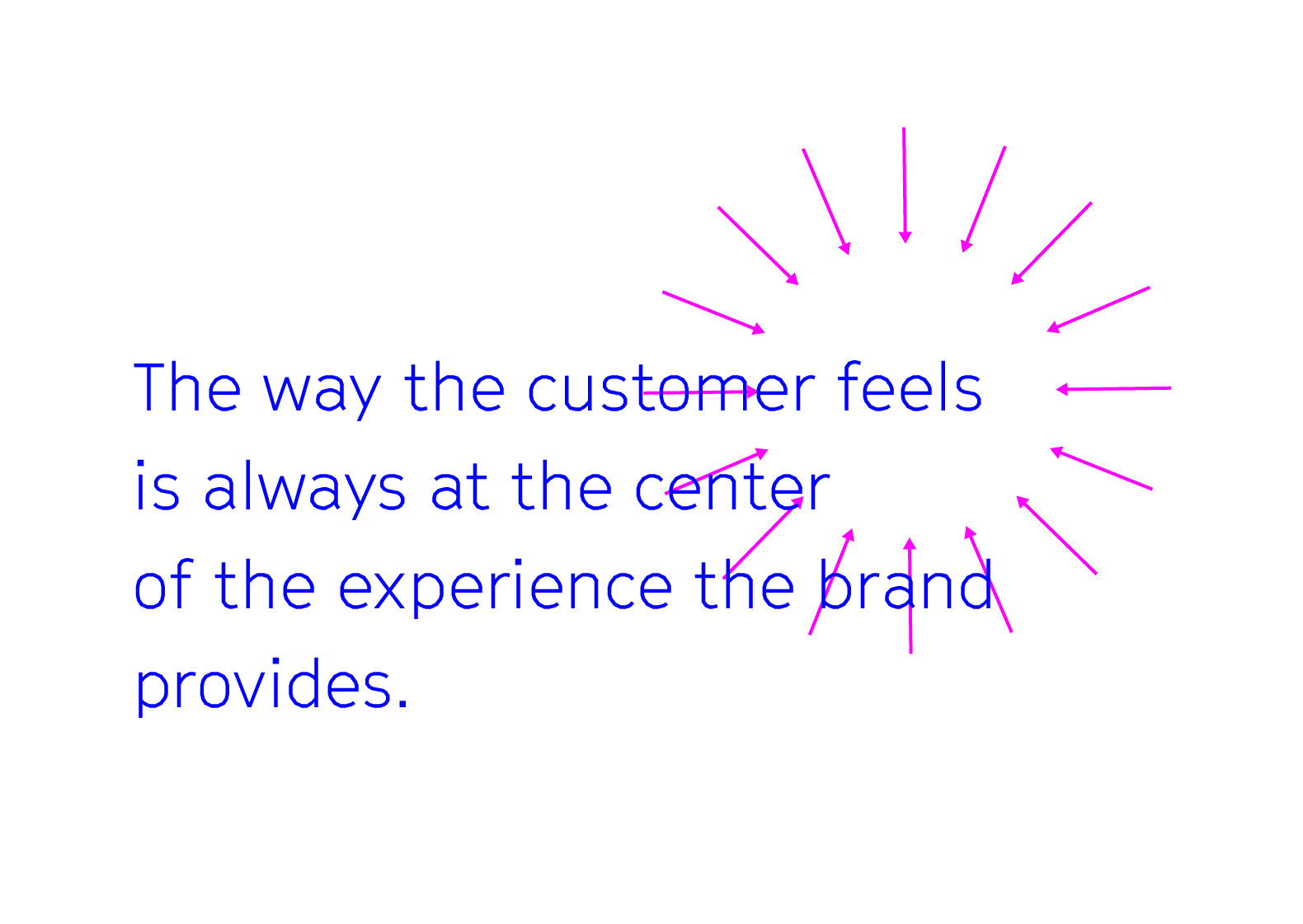 Guest-Centric, Brand-Wide
For all brands, it's true that the experience surrounding the product is increasingly important in how you define and differentiate. For service brands like hotels, the way the guest feels is always at the center of the experience the brand provides. The goal is not cookie-cutter experience. You can define a core set of elements that are always in play, but no two guest experiences will be exactly alike, even if they always feel like they're coming from the same brand. Obviously, this process goes far beyond the tools, like design and copy, historically associated with the business of branding.
To map a brand's blueprint, we look at what makes it truly unique at its core—the key brand expressions, guest interactions, perks, and amenities that make a service brand what it is. We cross-reference that with guest feedback, operational feasibility, and strategic plans for the future of competing in the increasingly crowded and competitive hospitality space.
The process of mapping this reveals many opportunities to celebrate the brand ethos while inspiring individual customers or guests.
*The resulting "Experience Map," and its touchpoints, are an actionable complement to a traditional Brand Guidelines *structured around anticipating needs rather than proscribing formulaic solutions. The model, viewable at-a-glance like a map, and then backed by supporting detail, provides vision and guidance of a guest's chronology of experience, from booking and arrival, to the stay itself, through check-out and departure. Each phase offers opportunities to exceed expectations, preemptively meet "unexpected" needs, and deliver a few surprises at just the right moment.
It's a blueprint that tells marketers what to show and tell, but it's even more pivotal as a guide for employees in their work, ranging from developing on-property experiences, to interacting with guests. It provides them both clarity of purpose and the space and freedom to execute in their own personal touch.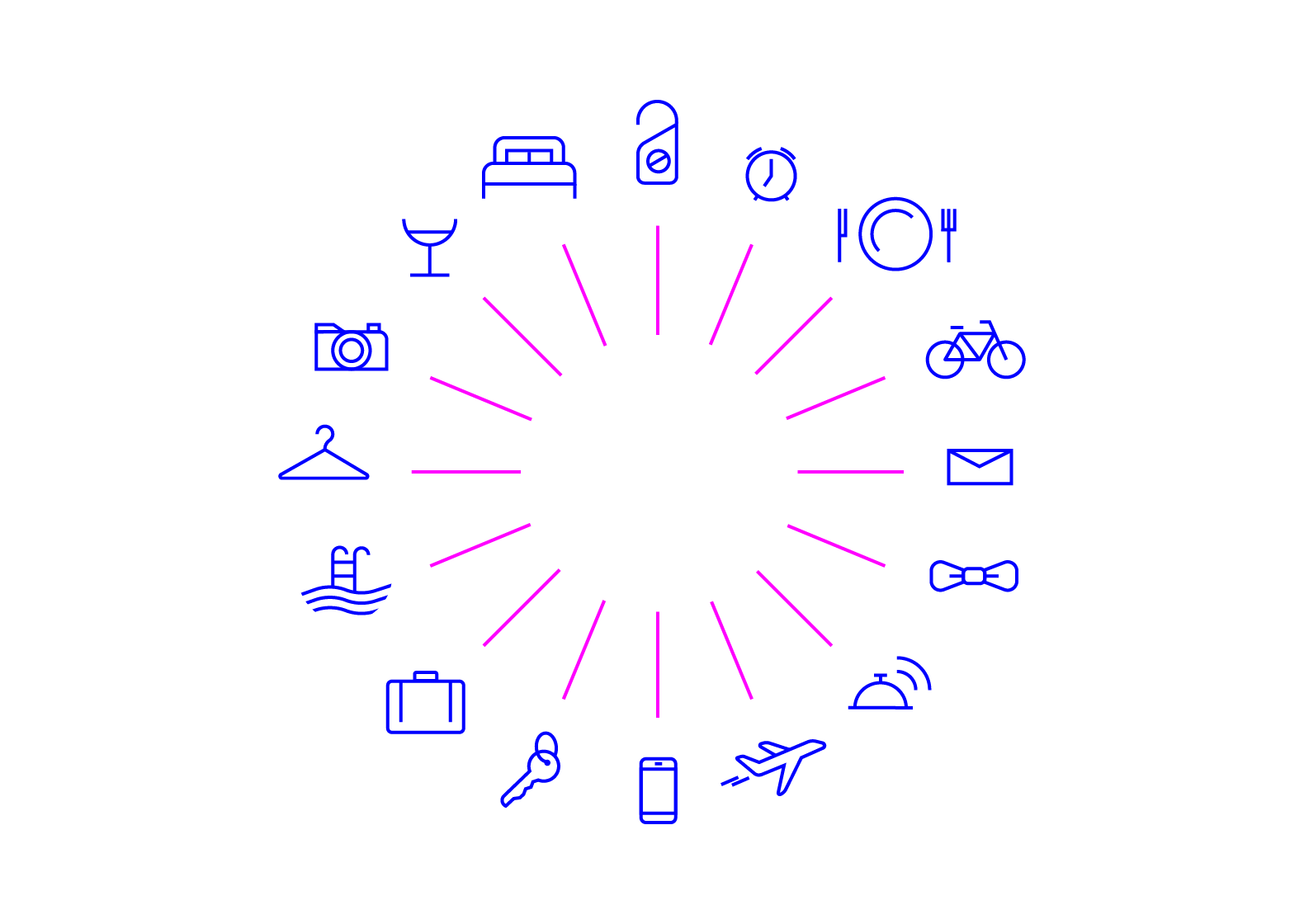 Same Journey, Different Destinations
The Experience Map is a paradigm, not a formula. The intention is not to replicate the same experience with factory-like consistency, but to provide a framework to showcase a unique brand personality.
Truly distinct experiences and brands are developed at the tangible, tactical level — on-property and in the moment. The experiential map is a methodology that grounds things in the place where the magic happens, offering a way of thinking about how the experience plays out at each phase and touch point from the perspective of a guest at that unique property.
You can see, and feel, its impact in ways big and small at hospitality-inspired brands we've worked with around the world:
● Boutique Viceroy property Hotel Zeppelin in San Francisco transports you into an altered state of mind, driven by the inspired ethos of the city's rebellious past, punctuating guest experience by revealing messages in blacklight on walls and in signage.
● The Kimpton Seafire Resort + Spa in Grand Cayman uses landscaping, amenities, and service to facilitate divergent guest desires for private or social experiences. Those who prefer island solitude follow winding pathways to secret sanctuaries where branded venues and amenities assist escape. More social adventurers find gathering places and lively culinary environments.
● XOJet introduces a bespoke personal service focus into an industry where planes are often the center of attention, ensuring that elite passengers are served by their own Aviation Advisors, and always personally know their pilots.
● McKibbon Hospitality emphasizes individual dedication, expressing their brand through the lens of their promise "Hospitality Begins with Us." The word "Hospitality" in the brand identity flips to always face inward toward the McKibbon employee. When employees hand their business cards to a guest, "Hospitality Begins With Me" faces them, a clever and persistent reminder of their personal promise.
● At Kimpton Hotel Allegro in Chicago's Theater District, the dramatic sweeping entry stair, nostalgically posh identity and collateral, and jubilant Concessions Bar transform guests into elite socialites mingling during intermission at a grand theater.
● Bounty Hunter Food, Wine, and Spirits seamlessly nurtures a brand experience that transcends location and time. A fanatical advocate of the good life through friends, food, wine, and spirits, Bounty Hunter integrates their restaurants, catalogs, and digital environments to give customers immediate access to the guidance of seasoned professionals that curate what your mood demands along your journey to the good life.
● At Kimpton Palladian Hotel in Seattle, the elegantly refurbished interior respects the local flavor of their Bell Tower neighborhood. Intertwined with the lobby, Penny Royal bar expresses the flavor of local venues that grounded this Seattle borough, reinforcing the impression that both the hotel and bar have remained steadfast through Seattle's rapid change.
● Lone Mountain Ranch in Big Sky Montana amplified their exclusive access to local activities to form a luxury adventure guest experience so unique it required they invent a whole new category of concierge; one equally comfortable arranging a luxurious spa day and climbing 4,000 feet in 3 miles, over 80 miles of meticulously groomed nordic ski trails.
● Kimpton Monaco Hotels across the country, their identities brandish their local relevance and whimsical style with highly localized variations of the hotel's logo and collateral, seemingly curated by a gregarious world traveling collector who returns with the vibrant flora and fauna to inspire each location's look and feel.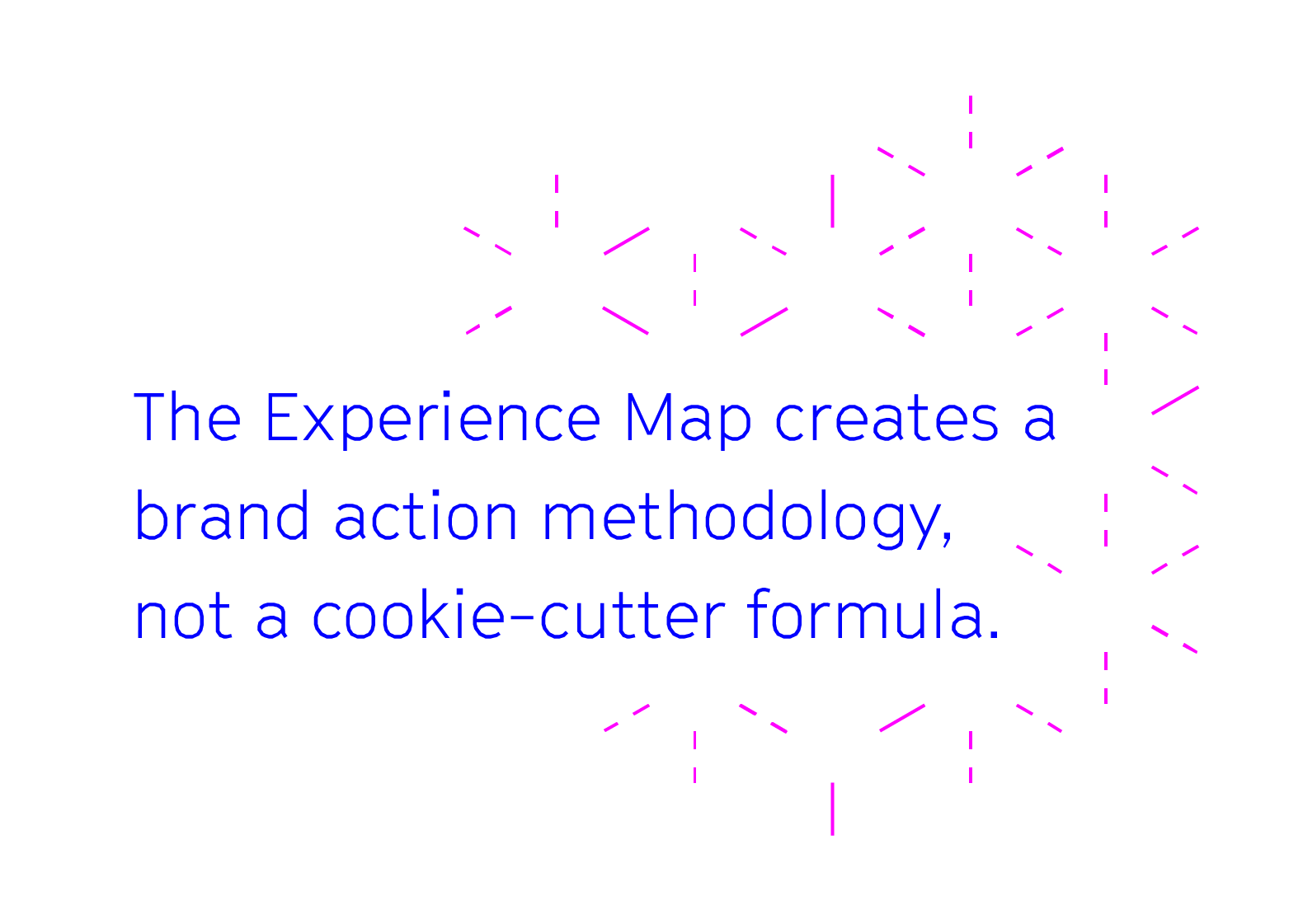 The Journey Never Ends
Engineering and managing a large organization's guest engagement model is exceedingly difficult. On an ongoing basis, a dizzying number of variables must consistently align around an understanding of a clear audience and mindset. It's a pursuit that isn't simply solved once and then forgotten; even the clearest, most thoughtful documentation and training needs continual maintenance. That's why perhaps the most important considerations are the hiring practices and working environment that encourage employees to be their authentic selves and implement the intent of the Experience Map.
By using Experience Map principles for staffing, brands reinforce their ability to consistently conjure experiences that entreat a sense of belonging. The Map doesn't tell employees every single thing to do in every situation; it gives them basic tools and a clear understanding of how they want the customer to feel in each situation.
In a world of global mega-brands and cookie-cutter design, great brand experiences today hinge on delivering a new form of luxury in the form of unique, authentic, and personal experience. To get there, great brands pivot on a system that allows for innovation to flourish and places tremendous dependency on individual employees.
Above all, they depend on a deep understanding of the guest's experience and perspective — their journey — to guide every aspect of the brand. When it works, you see what I saw in that hotel lobby: a customer who is so emotionally connected to the brand they don't see it as a brand at all, but as an expression of themselves.
Thanks for reading.
-Kenn Fine, FINE Principal
SaveSave