Twin Farms: Delicious Air Meets 5-Star Hospitality
Posted in Work — Feb 13, 2012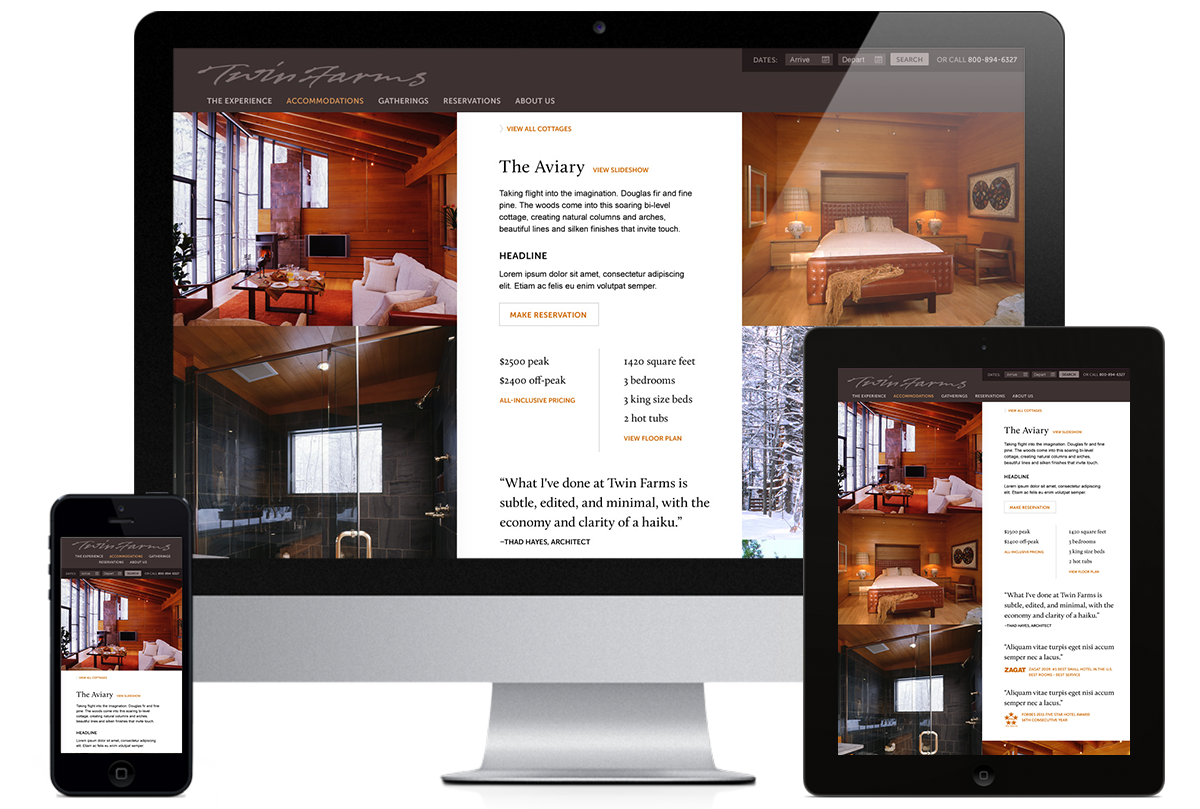 When Nobel prize-winning author Sinclair Lewis proposed to journalist Dorothy Thompson in 1928, she promised to marry him if he bought her a farm in Vermont with sweeping lawns, orchards, and "delicious air."
More than eight decades later, that magical property - Twin Farms – has become Vermont's only luxury, five-star hospitality experience, earning membership in the globally coveted Relais & Chateaux.
With a sophisticated yet eccentric private art collection throughout 20 uniquely designed accommodations on 300 acres, Twin Farms customizes every detail, yet offers one all-inclusive price.
Though the property is truly unparalleled, the new website starts with the basics: show the property, answer the questions, describe the experience, and make it easy to book. On that foundation of hospitality web design's best practices, the experience quickly becomes exceptional.
The site is imagery-centric, focusing on photography to best show the property, activities, staff, and the series of individually unique rooms that create the Twin Farms experience. Photography by renowned Vermont photographer Jim Westphalen is critical in paying off the design.
The website's responsive technology structure means the design adjusts automatically to the size of your browser, be it a laptop, an iPad or a smartphone. A custom content-management system platform behind the site makes it easy to keep words and images refreshed.
With this launch, Twin Farms launches their first ever online booking engine, their first mailing list sign-up form and an online form for users to fill out to make concierge requests / food preferences that replaces more onerous phone/fax tactics. Each function was undertaken to manage a digital experience as seamlessly as a personal interaction.
If Twin Farms is steeped in romance and folklore, their new brand website aims to both show and tell the setting, positioning one of the world's great boutique properties for another century of stories.