The Norton Cybercrime Index: Real-Time Reports From The Battle Against Digital Bad Guys
Posted in Work — Feb 16, 2011
[]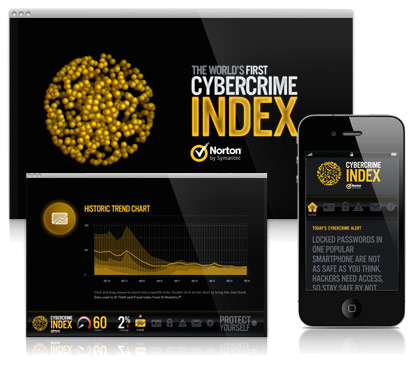 Beginning today, we'll all have a little more visibility into the daily battle against cybercrime. The Norton Cybercrime Index ("CCI"), a free tool available to the public via Norton.com and other link points, will measure and warn cyber-citizens about real-time cybercrime happening around the world and how it can affect them. You'll even see it displayed in on-location installations in places like London and New York's Times Square. FINE Design Group is proud to have played a key role in helping Norton to design, build, and roll out this important new program.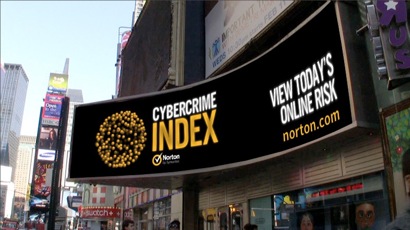 The immersive Flash-based web experience, with a swirling orb graphical device meant to create order out of the chaos of the digital world, is driven by Norton's authoritative cybercrime data sources, refreshed in real-time or regular intervals. To gauge progress over time, an actual index number is calculated daily to reflect movement in trends in real activity, not unlike what you might expect from the Dow Jones or other indexes that consumers monitor regularly. A daily headline indicates the day's top threat, and tells you what to do to avoid it. Rotating WOW points give an immediate read on cybercrime status. And all information is architected and organized into meaningful levels of access. Users have the ability to intuitively get to the 'Deep Data'.
The front-end design and UI was made to engage users in what might otherwise be deceptively dull infographics. It uses a morphing series of orbs to move users fluidly between topics in a truly immersive format, while emphasizing the order Norton creates out of the chaos of the digital world. The application is built to support embedded access to a Flash application and fluid mobile experience. To connect this front-end to the myriad back-end data sources that drive the tool, a middleware layer was constructed and implemented.
The net result is a tool that should prove invaluable to Norton in relaying its brand message about fighting back against cybercrime, even as it helps consumers understand the severity of the issue and compels them away from indifference.
The promotional effort around this important new tool will be justifiably significant, beginning with a PR blitz and outreach, and extending to extensive online advertising, and even a presence on the jumbo screens at New York's Times Square. We hope you'll pay a visit to the Norton Cybercrime Visit early and often, and refer to it as a bellwether in a unified front against digital bad guys.