Summit Partners: Helping Entrepreneurs Help Themselves
Posted in Work — Mar 04, 2014
[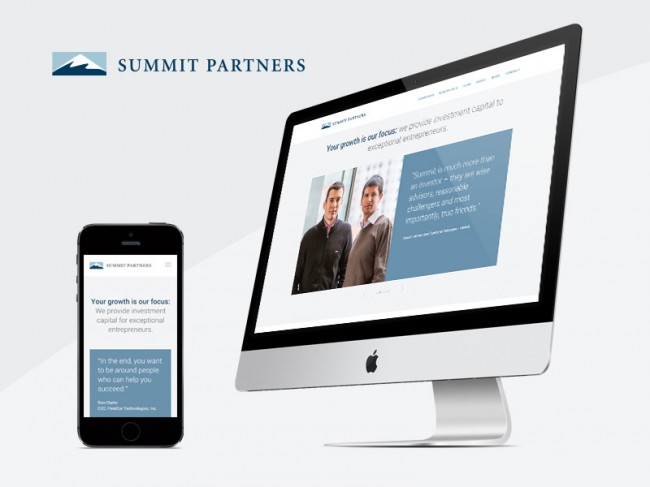 ](http://www.summitpartners.com/ "")
Summit Partners is a global leader in growth equity and credit investing for rapidly growing companies. They have a long and storied history, and their existing website had become content-intensive over time as a function of keeping pace with their evolution. Without losing site of a strong track record, they needed a new digital presence to re-focus on their core message to high growth companies: We can help you grow even more.
It started with streamlining Summit's existing content to create a focused, succinct experience bringing core capabilities and entrepreneur support services to the forefront. Rich photography brings to life the deep collaboration that happens between Summit and their partnering CEOs. A cool palette, minimalistic design, and bold typography create an easily scannable, highly functional, modern site that appeals to the modern techrepreneur sensibility.
The Summit Team section allows users to filter by role and location, highlighting their team size and global presence while creating a sense of personal connection and approachability. Their extensive portfolio is segmented into three Core Capability sectors to create a more-tailored experience for the audience. For each sector, flexible systems help feature company Case Studies, bringing Summit's most successful stories to the front. The "How We Help" section shows the ways Summit supports companies while elevating the stories of companies who benefitted from these services. The site is responsive to function seamlessly across devices. It's another visual cue to growing companies that Summit is well-suited to today's technology and paving the way for their further growth.