Stag's Leap Wine Cellars: A Luxury Digital Home for a Brand that Shocked the World
Posted in Work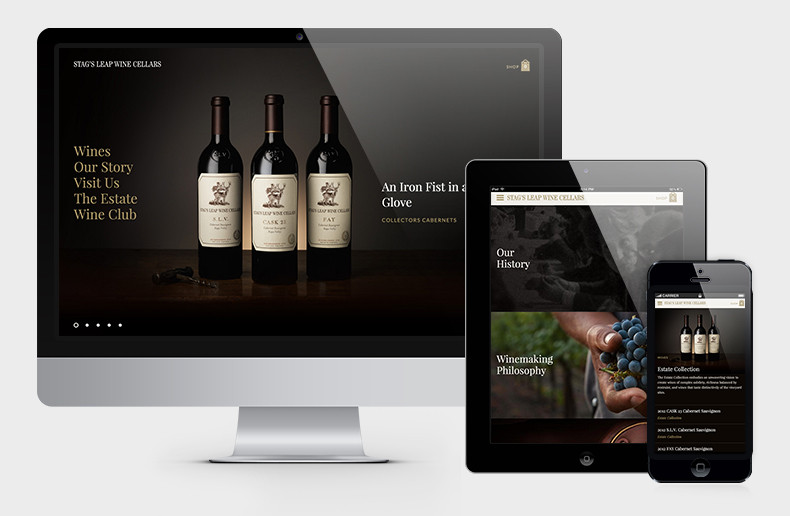 Stag's Leap Wine Cellars leapt to fame during the historic 1976 Judgment of Paris, winning the Cabernet Sauvignon competition and shocking the wine world. Four decades later, it's established itself as a luxury brand, a Napa Valley first-growth estate that produces acclaim-winning varietals with a philosophy to create wines of classic beauty and harmony.
Inspired by a new visitor's center that invites guests into the winery, their new website delivers an equally immersive, engaging experience online—the result is both high-end and welcoming, highlighting the brand's differentiators of superlative product, historic influence, and on-property experience.
Strategically, the first imperative was to show more than tell, relying more on imagery than description to create a luxury feel. Careful content strategy winnowed lengthier copy to allow for imagery to emerge and experience to take precedence. This process led to one of the site's defining features - an uncommonly bold, left-justified navigation, with five simple categories, anchoring one half of the site's frame, creating confident user pathways and focusing attention on imagery. In deeper pages, focus shifts to product imagery and detail, but limits the products and images displayed to reinforce luxury and selectivity.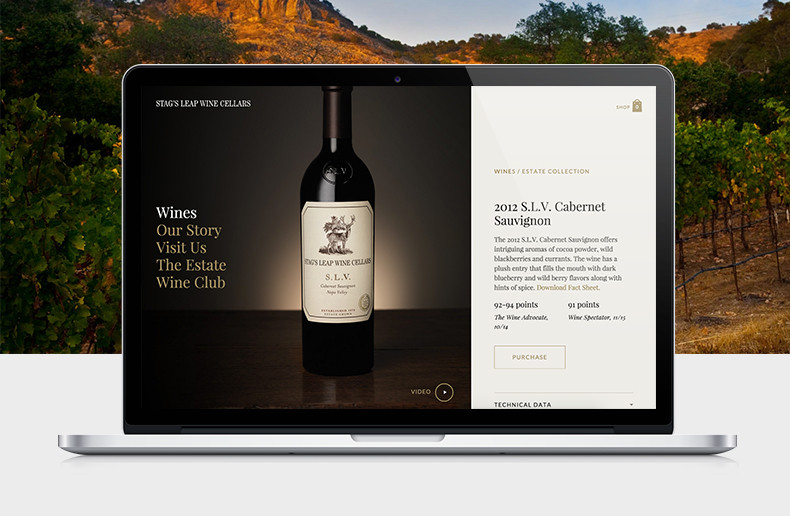 The site challenges the standard "wine shop" experience by integrating ecommerce into brand and product content, facilitating ease of movement from product collections to purchasing. More like an upscale retail experience, users explore individual wines, then add to cart and checkout, without having to rummage through a cluttered wine shop. Commerce flows from brand more than brand flows from commerce.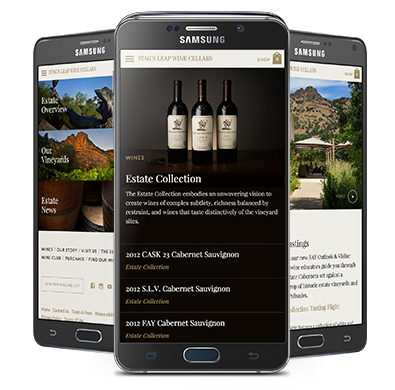 Collectors find their dream feature in a tool that enables them to authenticate their bottles while on individual wine detail pages, giving way to the connoisseur methodology that defines the site's sensory touch points—seen even in the footer, which only displays after all content has been scrolled through to provide intuitive access to auxiliary pages without detracting from the experience.
To push this historic brand into the digital future, a carefully planned, fully responsive design / build renders the site seamlessly in mobile and tablet devices. The image-centric, minimal content approach is even more important toward translating the brand to smaller screen.
Ultimately, the elegant new digital home for Stag's Leap Wine Cellars now more fully reflects the highly sought after luxury brand they've become while celebrating the history-making brand behind the bottle.
And the awards are beginning to roll in. Since launch, Stag's Leap Wine Cellars's new website has won a few nods of recognition. In the spring, it was the Communication Arts Webpick of the Day, and not soon after, the site was named a 2016 Gold Stevie winner in the Food and Beverage category. Most recently, it won the 2016 IMA Best in Class in the Food and Beverage category. The Best in Class award is the highest honor bestowed by the Interactive Media Awards, and represents the very best in planning, execution and overall professionalism.
The accolades are also backed by results. Early returns to the new site and program metrics show more traffic and conversion:
-34%Bounce Rate Reduced
+30%Average Session Duration
+99%Pages/Session
We're proud to have worked with such an impressive brand that has turned its leap to fame to a consistent stride.