Snoqualmie Vineyards: A New Brand of Sustainability
Posted in Work — Jan 28, 2014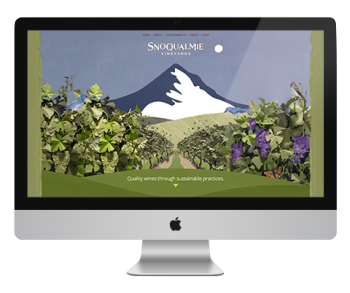 The wines of Snoqualmie Vineyards reflect the balance and natural beauty of the Pacific Northwest and a commitment to sustainable and organic winemaking practices.
This refresh of their digital brand presence coincides with the release of new labels for Snoqualmie wines that combines to elevate the focus of their commitment to organic and sustainable practices.
The connection to the land and the personal touch of Snoqualmie comes through in the handmade aesthetic of their digital environment. Instead of photography, original watercolor paper cutouts from the Snoqualmie art vault share the Pacific Northwest landscape. The moon, mountain, and rolling hills of the valley are all defined by textured, layered paper with soft, torn edges, and dramatic color contrast. Tucked throughout the artwork you'll find little ladybugs, butterflies, birds, and rabbits to highlight the vineyard's use of beneficial insects and animals to keep pests at bay, instead of chemical pesticides.

The site structure stays simple to amplify the natural textured paper effect, with an intuitive and minimal navigation. The Home page scrolls in 3D, using the cutout for effect. Rollover the moon (or "snoqualmie" as the Native Americans of the area would call it) at the top throughout the site for hidden messages about their sustainable practices. The Wine pages provide details and images of the bottles and their new labels, downloadable fact sheets, and links to buy. The Sustainability page provides more insight into the practices of the company by breaking down steps in the process from the vineyard to the winery to the bottling and packaging.
The overall effect creates a full view of Snoqualmie's brand promise that can be sustained for some time to come.