Quoth The Ravenswood
Posted in Work — Apr 07, 2010
Once upon a midnight dreary, we pondered weak and weary, over many a quaint and curious concept of forgotten lore, and now we're done we marvel at the site where the dark bird dwells. Quoth the raven evermore at http://www.ravenswoodwinery.com/.
Ravenswood's always been a bit of a rebel wine. It started with their single-minded mission to popularize Zinfandel at a time when wimpy wines like white zin were gaining popularity. After many years, and an acquisition by Constellation Brands, they finally have a site that stands up to their claim of No Wimpy Wines as boldly as their brand. It features illustrative stylings, parallax flash, extra deprecated dynamic SEO and promotion engine fu. As you strafe across the brooding raven landscape, don't miss the winefinder tool that helps do a fast search by varietal and brand family, and fan them up on Facebook while you're at it.
And, before you know it, it's already been selected as an upcoming CommArts Site of the Day.
[sorry about the bad Poe]
[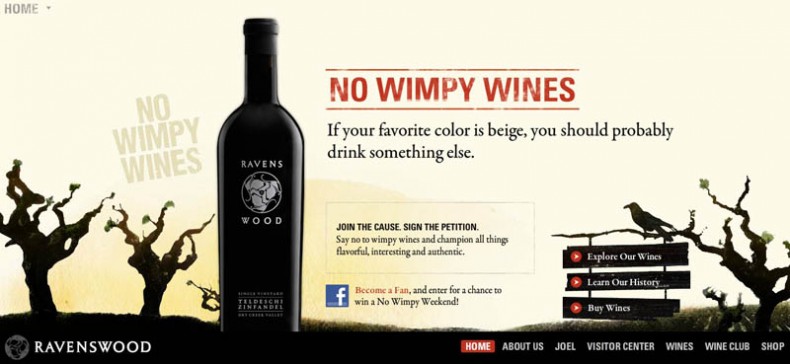 ](http://www.ravenswoodwinery.com/ "")