Project Management Takes the Field
Posted in Work
[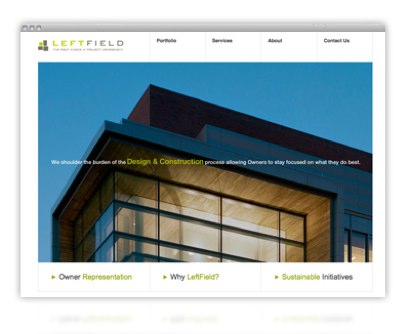 ](http://www.wearefine.com/mingle/project-manage…akes-the-field/ "")
It's baseball season, and our client is called LeftField, but we will, with some difficulty, restrain ourselves from too many baseball analogies.
But we hope that we, like LeftField, hit it out of the park this week with Boston-based construction project guru Jim Rogers' FINE new home.
LeftField takes the burdens and headaches of construction management off the owner's shoulders, orchestrating the details of some of the Northeast's highest profile, large-scale developments (from Harvard University labs to bankcard complexes).
And don't neglect to check out the 2nd best use of a Show/Tell toggle ever.
Much of what LeftField does is down in the project management dugout trying to prevent unforeseen expenses from arising from out of left field. Their focus on the finished product brings it all sliding gracefully into home.
(OK, so we lied about not using baseball analogies…)