On a Boat Y'all!
Posted in Work — Jan 24, 2010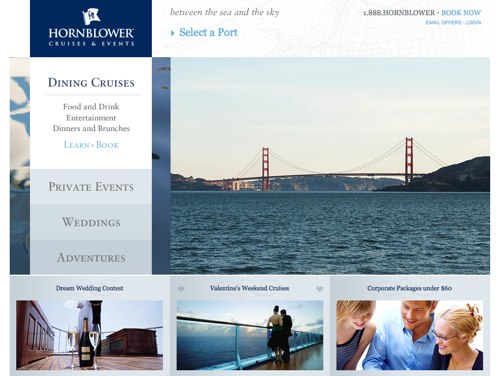 FINE design group helps Hornblower Cruises and Events launch more than simply a website, but brand transformation. What you see on the new site is a culminating element among multiple re-branding efforts, including a new tagline, copy, advertising, and imagery approach that's now infused throughout their marketing outreach. The cumulative effect is a new company identity for Hornblower that starts to lift them out of "bridge and tunnel" perceptions and focuses on the remarkable experience they provide. It's not cheap to take a boat cruise, so the overall effort has been to show that the "on board experience" is truly special, while still allowing for promotional messaging aimed mostly at selling charters and putting "butts in seats" every weekend. The battle to keep image/experience at the forefront of their marketing instead of price and schedule is ongoing, but the website is a great example of that mission.
Learn more about our work with travel and hospitality industry leaders.