Mumm Napa Uncorks Sparkling Blog
Posted in Work — Oct 29, 2015
Mumm Napa makes the everyday more, as it reminds sparkling wine fans that it's not just a beverage reserved for special occasions, but rather one that makes any occasion special.
In this light, Mumm Napa's new blog, Better with Bubbles, celebrates these moments and helps to create new ones, while also featuring new ways to celebrate the old ones. It's a roadmap to a life more sparkling.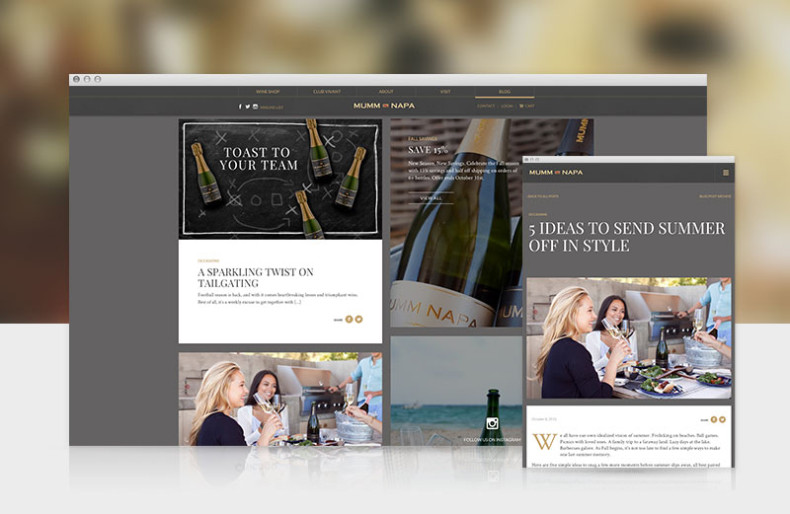 While creating a more holistic brand vision and strategy began the blog's efforts, it took a team of designers, developers, content strategists, and copywriters to bring it to digital life. Visually, the blog's design pairs with Mumm Napa's 2014 FINE-created site, paying great respect to lifestyle imagery, features from Mumm Napa's social channels, and promotional offers pulled in from the CMS and mummnapa.com's special offers page.
The development of the site incorporates various "post types" to support these various content pieces, with a lazy load reminiscent of the site's shop experience.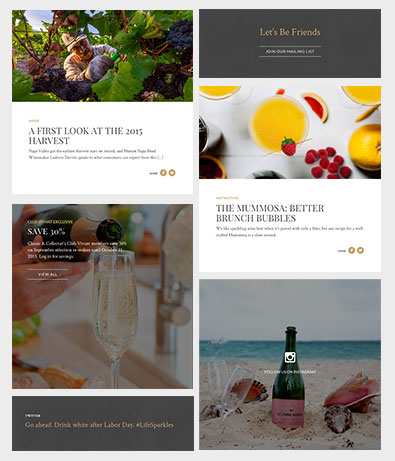 While the design was thoughtfully created to pair with the main site, it's also been given its own voice, created to feel bold, modern, vibrant, and most importantly, inviting. From the typography to the plentiful imagery, it builds a sophisticated experience that speaks to the Mumm Napa brand.
To complete the puzzle, content strategy took shape under a unified vision, as seen celebrated on the blog itself: "Stories and advice for a life more sparkling". Articles are thoughtfully and subtly organized into categories that give readers a look Inside the winery, help them find new Occasions, and ways, to celebrate, Instruct on anything from how sparkling wine is made to how it's properly served, and finally, share in each other's Moments, as shared through Mumm Napa's social media channels - social being a larger piece of the overall marketing reboot.
The blog serves as the central station to Mumm Napa's new marketing mission, where all aspects of their brand converge in one place for their fans and followers. As new content is consistently published, it will grow to become an intrinsic piece of the brand's promise to make every moment worth celebrating.