Michelle: A Classic Re-Brands For A Bright, Bubbly Future
Posted in Work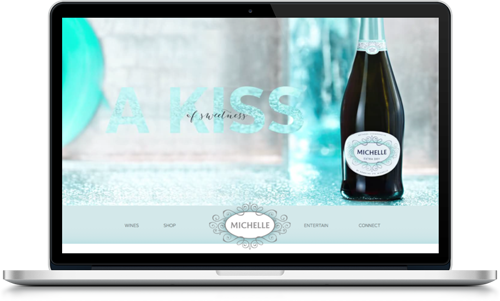 Over the past 35 years, Domaine Ste Michelle has built a strong brand crafting traditional French-style sparkling wines. The product, made in the traditional méthode champenoise style, remains a competitive advantage. But when it came time to help connect it with a slightly younger, female consumer, parent company Ste Michelle Wine Estates looked to FINE to refresh the brand.
It started with the decision to rebrand the entire sparkling wine family Domaine Ste Michelle as purely "Michelle". The look of the brand marries the traditional with the modern, creating a friendlier, effervescent feel without compromising their roots. The new standard rolls out with a new logo, label, and a brand new sparkling website that ties it all together.
The website presents messaging and content that delivers on the new positioning and reminds consumers that enjoying some bubbly does not require a special occasion. Etherial, engaging, and open design showcases the entire Michelle collection: Brut, Brut Rosé, Extra Dry, and Luxe. Each gets its own "billboard" homepage treatment and style. A feature page then describes each product's style, pairings, origin, and tasting notes along with a downloadable fact sheet and purchase link to the Chateau Ste Michelle wine store.
The refreshing "Entertain" section shares fancy, yet effortless, sparkling cocktail recipes, serving and purchasing tips, as well as a Sparkling 101 section for beginning sparkling wine enthusiasts. Each cocktail recipe is accompanied by undemanding snack and appetizer pairings for "any-occasion" cocktail parties. The unique aerial photography of the these libations was orchestrated internally by the FINE design team in our studio.
Finally, the "Connect" portion of the site encourages visitors to stay social with Michelle to learn about events happening at the winery and to stay up to date with inventive way to keep consumers sparkling.
It's a new look and feel for a brand that's a once and future classic.