Kimpton's Revolutionary Brand of Hospitality Re-imagined For Digital Guests
Posted in Work — Aug 14, 2014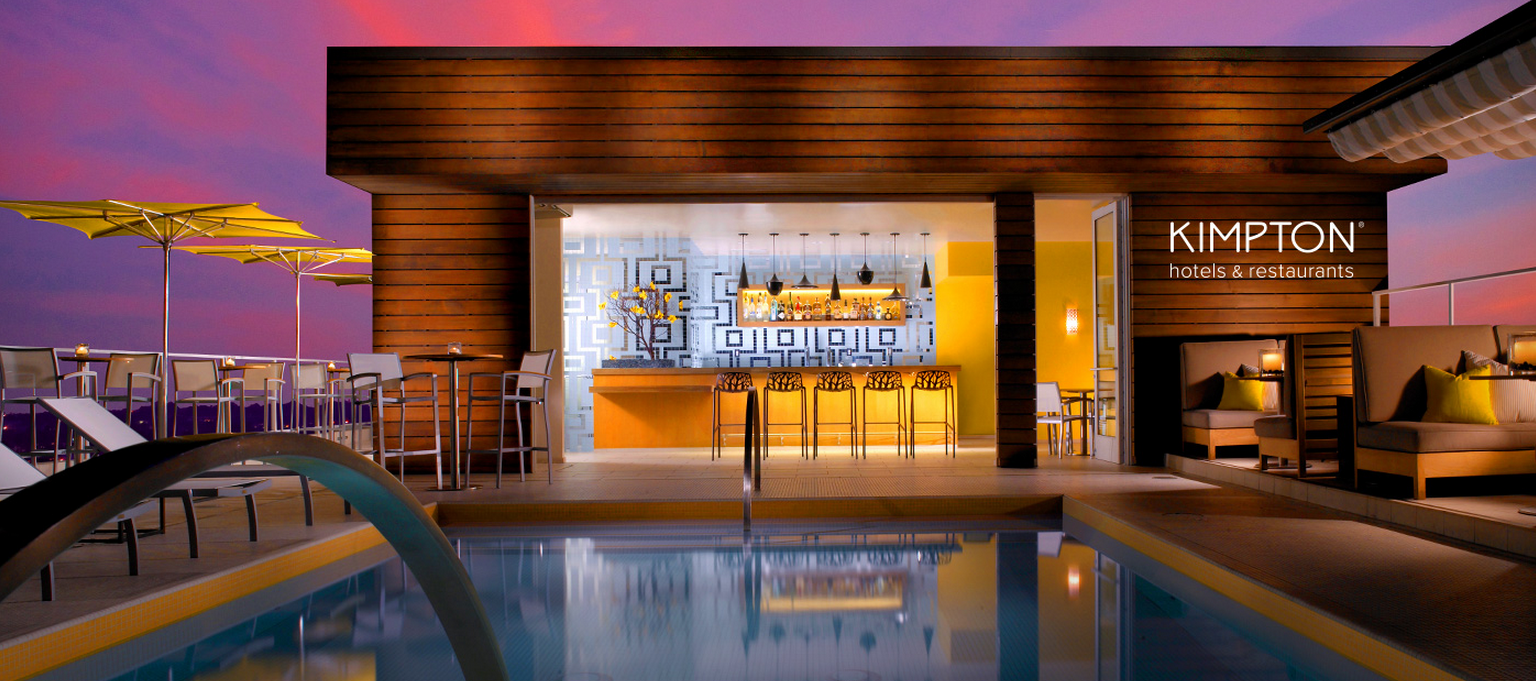 For 30 years, Kimpton Hotels & Restaurants has inspired #KimptonLove and garnered a following for its personal service and irreverent style. In the process, they've transformed an industry into something invigorating, personal, distinctly Kimpton, and never "cookie cutter".
In that spirit, FINE's partnered with Kimpton to re-imagine the guest experience across a number of initiatives that are helping to redefine the company for the future. At the center of it all is a new digital presence that, like Kimpton itself, sets a new standard—one that's approachable, agile, spirited, and, most importantly, digitally innovative.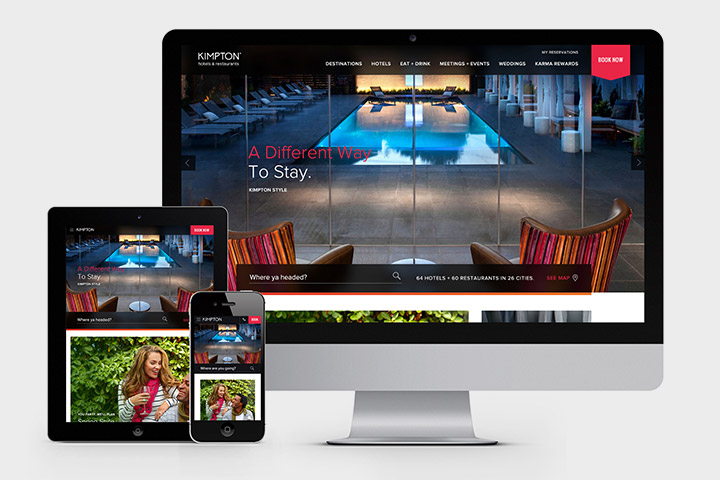 The new site, which won Gold at the 2014 Davey Awards, and again took Gold at the Adrian Awards this year, is one part of a multi-phase plan that will include an updated infrastructure, culture, and digital touchpoints, serving as primary pieces in Kimpton's unrivaled commitment to its guests.
The project required a ground-up approach to focus on guest journey, quite literally, through the site and through Kimpton as a brand. It was never about making guests bow to technology, and always about how technology could be shaped to serve guests. So FINE played key roles throughout in content strategy, IA, project management, SEO, design, development, testing, integration, and deployment of the new KimptonHotels.com, in addition to conception, naming, branding, and communication of the new Kimpton rewards program, Kimpton Karma Rewards.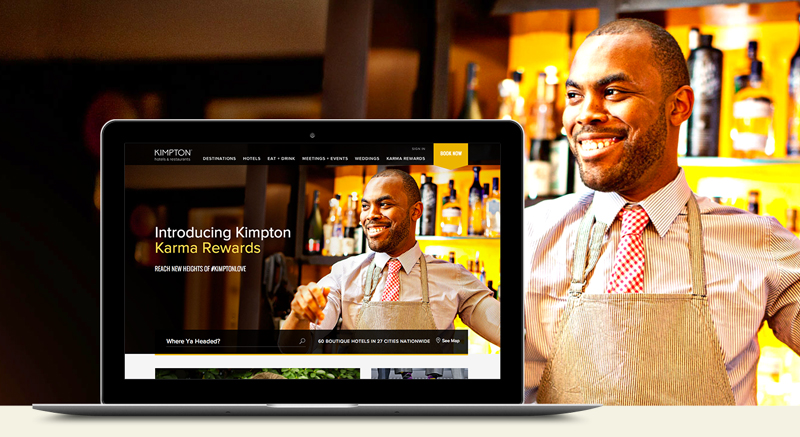 The site is fully responsive across desktop, mobile, and tablet to an extent not found among competitors in the hospitality industry. Custom coded to Kimpton, the site required more than 60 unique page design templates (most sites consist of just 6 to 7 repeated over and over again in the aforementioned cookie-cutter fashion). Attention to detail and responsiveness required more than 5,000 carefully-curated imagery assets, thousands of lines of code, integration with 14+ external data sources for related services like reservations, weather, booking, maps, and more. Behind the scenes, a new enterprise-level content management system supports the content strategy.
But a site can only be ogled when it's found, which is why FINE made the user-centered site architecture better than anything in the industry for search engines. By layering on city landing pages, special offers, and wedding venues and meetings by city, KH actually has a whole SEO-friendly URL structure for each city.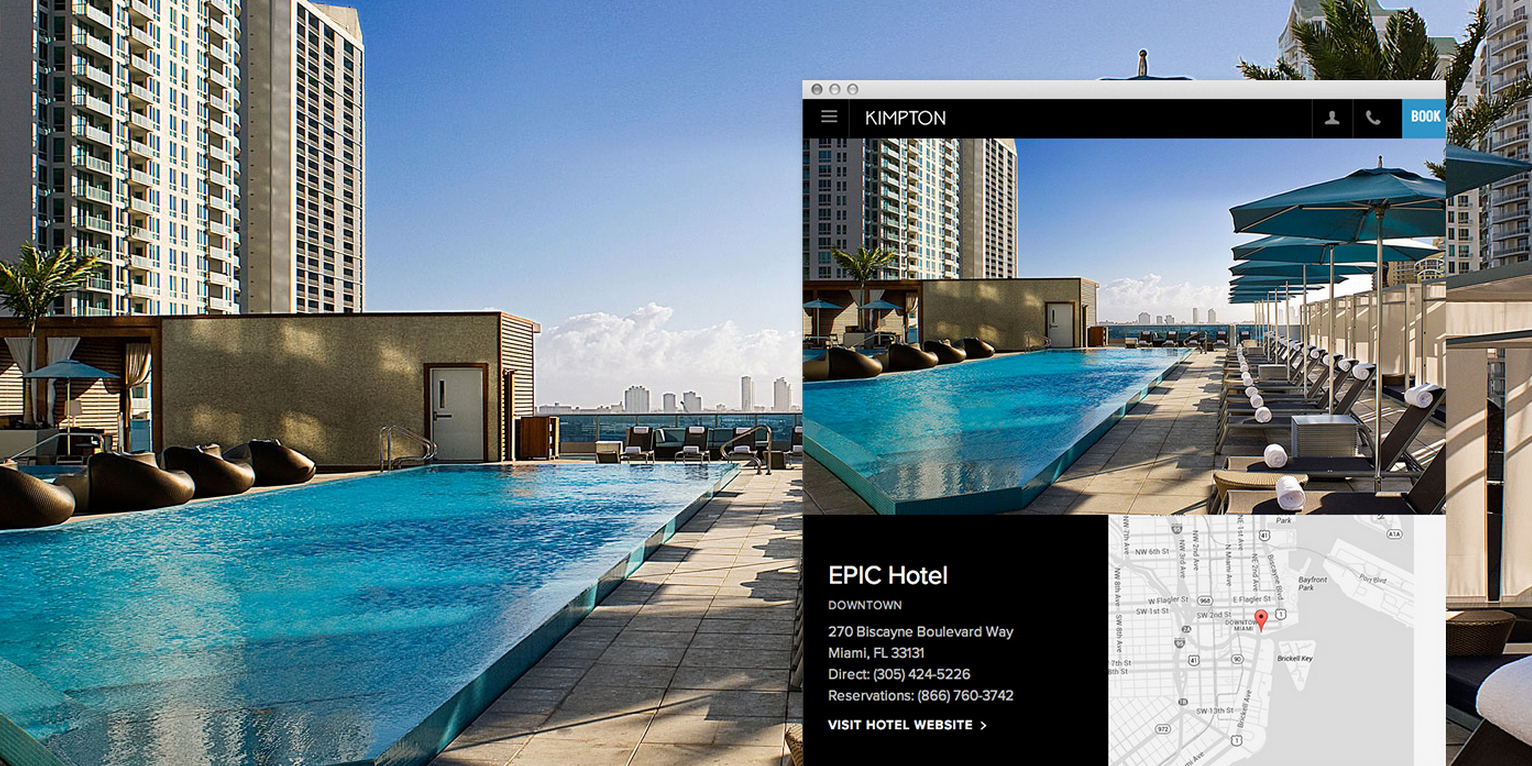 The website project kicked off in October 2013, proceeding through an unheard of eight-month timeline for a comprehensive, "from scratch" redesign. It involved more than 100 people, from vendors to stakeholders and third party providers—the scope of such collaboration is rare but critical to maintain consistency from a guest perspective.
It is demonstrably an industry leading website at launch, and will be an increasingly industry disruptive site as it evolves with more features and content in future releases. More importantly, it's part of a roadmap of many Kimpton brand evolutions to come.
And, of course, if it's Kimpton, it'll most likely rock the industry, if not your world.
SaveSave