The Kimpton iPad Sales Sidekick: A High Tech App For A High Touch Brand
Posted in Work — Jan 23, 2014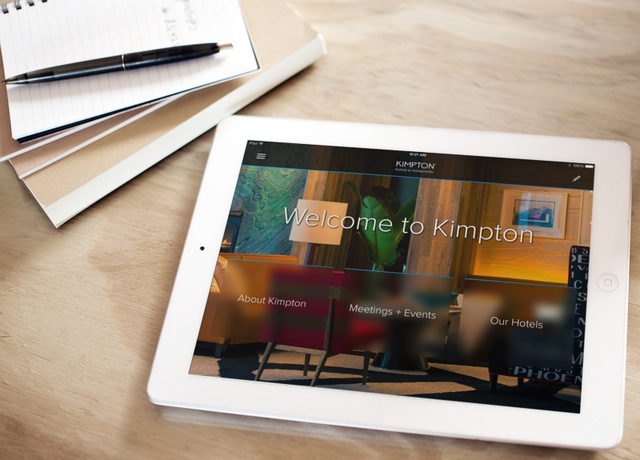 Kimpton Hotels & Restaurants has always been a "high touch" brand – it's part of what made them a pioneer in boutique hospitality.
A new iPad-based application gives the Kimpton sales team a valuable tool to extend that personal touch to the process of working with clients to book events, meetings, weddings, and groups. In the process, it creates another milestone in FINE's ongoing work with Kimpton to bring their signature style to all key brand touch-points.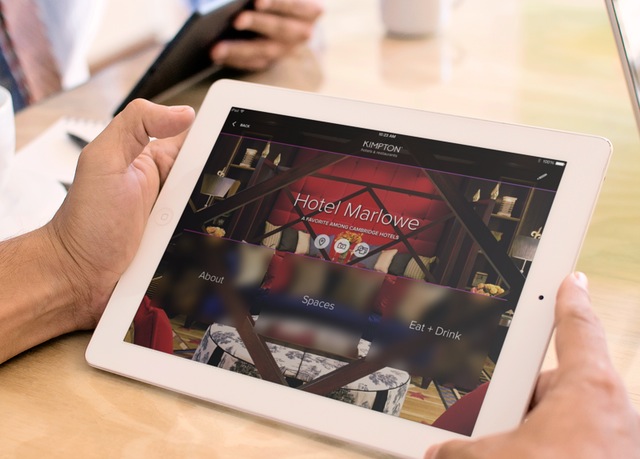 The app delivers Kimpton's brand story and Meetings & Events promise in slideshow format, then allows users to dig deeper into imagery and facilities details for each individual properties, including meeting and common spaces, guest rooms, and local attractions.
It's housed in a fluid, interactive, image-rich interface that supplements the sales process as never before. It replaces a host of ad hoc materials with a state-of-the-art, updatable mobile presentation platform, easy for a wide range of technical abilities with little or no learning curve.
The image-driven design and UI are intentionally modeled to be a helpful sidekick, not a proxy, for human connection. Slideshows of striking Kimpton photography include the option to show helpful captions or hide them, allowing users to tell the story in their own words or engage in conversation. Quick, intuitive navigation helps users to move gracefully from one area to another.
An especially useful feature is the ability to show clients hotels by region by using the custom Kimpton U.S. map. Clients can compare hotels by size, location, and amenities while viewing property-specific photography. Then they can easily compile all the individual hotel sell sheets and city comparison charts of interest and send them directly from the app to the client with a personal follow-up message and digital brochure.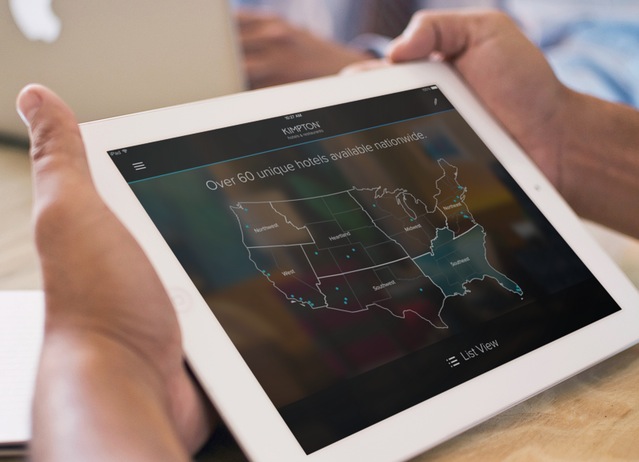 Behind the scenes, content administrators can login to a simple admin site to update any hotel/restaurant content. New content or changes are pushed out to sales staff users the next time they launch the app. This data is used to compile and generate the hotel PDF sell sheets, so information that goes to clients is always up to date.
The Kimpton iPad Sales Sidekick app is already deployed and enabling the kind of personal interaction Kimpton's famous for, now with a high touch meets high tech feel.