Horsley Bridge Partners Establishes A Digital Bridge to Technology Investing
Posted in Work — May 08, 2014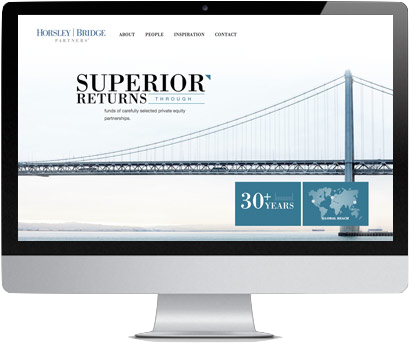 Founded thirty years ago in Rochester, New York, Horsley Bridge Partners has continued to thrive and innovate in the investment services sector. Their funds include over 8,000 underlying portfolio companies, with over 1000 IPOs. The next step in HBP's brand evolution was to create a new digital presence to share its track record of success in private equity investing with the world.
With input from the HBP team, FINE crafted a message to reflect the core principles of the HBP brand, supported by stunning photography of great bridges from around the world. The imagery reflects HBP's global reach and represents their role as a "bridge" for clients seeking to invest in the fast-paced world of technology.
A modern design balances establishment with intelligence, integrating the bells and whistles of modern technology with a classic look.
HBP's new responsive website – powered by FINE's custom CMS technology – is device agnostic, responding seamlessly to browser widths from mobile to cinema, creating a world-class digital experience.
The content strategy includes a fun, thought-provoking look at the people and principles that have influenced HBP and its partners. The Inspiration section of the site features quotes from leaders in sports and business, offering a glimpse at what makes HBP and its partners tick, and providing a collective view of the driving forces that have shaped and molded our society over the years.