Ferrari-Carano: A "Love It All" Brand
Posted in Work

Over the past 25 years, Ferrari-Carano has built a world-class wine and food brand based on bringing friends and family together to "love it all." It began 25 years ago when Don and Rhonda Carano fell in love with a small 30-acre plot of grapes that reminded them of Italy. Today, it's 19 estate vineyards in six different appellations totaling over 1,500 acres of some of the finest wine growing properties in all of California.
Committed first and foremost to creating fine wine, they own the end-to-end process for 30-35 wines, from vine to bottle. The brand extends to olive oil, merchandise, Rhonda's Recipes, Villa Gardens and an extremely popular wine club, along with sister companies like Vintners Inn, John Ash & Co, The Front Room Bar & Lounge, Lazy Creek Vineyards, and Seasons of the Vineyard Tasting Bar and Boutique.
The Ferrari-Carano brand finds a digital home with a website and companion mobile website that reflect the core "love it all" traits that have evolved over its history.
Imagery balances the prestigious look of the family estate yet avoids a hint of pretension. Every page of the website is a large scrolling gallery providing a rich visual experience for visitors. The pages are open and warm, featuring key experiences guests at the villa would encounter, like the ever-changing gardens, rolling vineyards at sunset, and outdoor dining tables.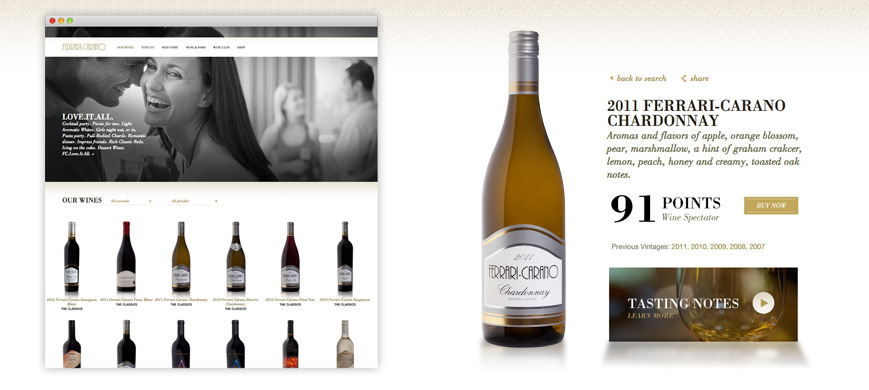 The sharing of wine, food, and family is evident throughout the site's features. A gallery also showcases the extended Ferrari-Carano family - the winemaking team and the individual personalities that have contributed so much to the brand and the success of their operation over many years. Another feature, Rhonda's Kitchen, allows sharing of tried and true family dishes that pair with F-C wines. Searchable by varietal or course, recipe pages provide step-by-step instructions and ingredients along with a wine pairing guide and direct link to purchase the recommended bottle.

In short, Ferrari-Carano's digital presence establishes a contemporary feel, while weaving in the brand's own growing tradition. Whether glimpsing the gorgeous villa estate, introducing its staff, or sharing a love of food and tradition, the design reflects the passion of bringing friends and family together under the Ferrari-Carano Brand.