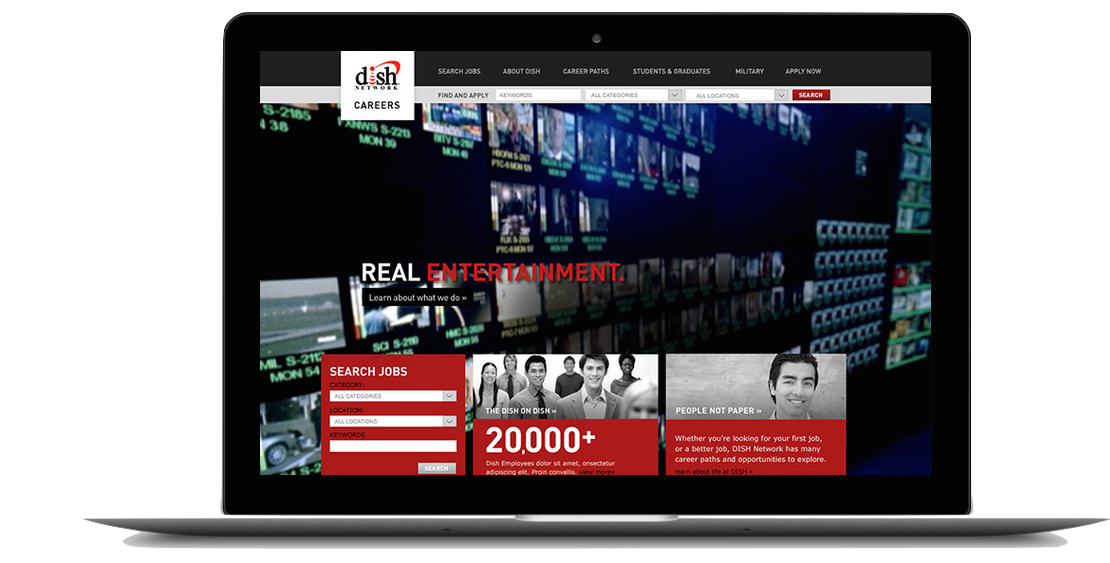 If your business depends on a steady stream of recruits from the demographic variously referred to as "Gen Y" or "Millennials", you may be in for one of your toughest marketing challenges yet. It's one of the reasons we've partnered in the Employ Brands initiative.
This engagement with DISH Networks began with qualitative research to understand how what DISH offers as an employer aligns with what the recent university grad is looking for – the result was a clear understanding of their Employer Brand that complements their consumer voice.
The next step was applying that understanding to the digital touchpoints that are so much a part of how this generation makes choices. The result is a web experience that show DISH as a media company, not just a maker of satellite dish technology.
Through graphics, and integrated video from ESPN and HBO, the DISH employer brand begins to shift in the audience eyes. First person video personalizes the visit, like a trip down the halls of DISH to meet your future co-workers.
This new platform paves the way for call-to-action recruitment functionality, including interactive maps for job seekers, and integration with existing online application tools to drive increased applicant flow.
The design project expands to encompass search engine optimization, with keyword strategy driven by consumer insight, search volume, and DISH's new positioning.