Credo Capital: A Website With A Thought Infusion
Posted in Work — Aug 31, 2011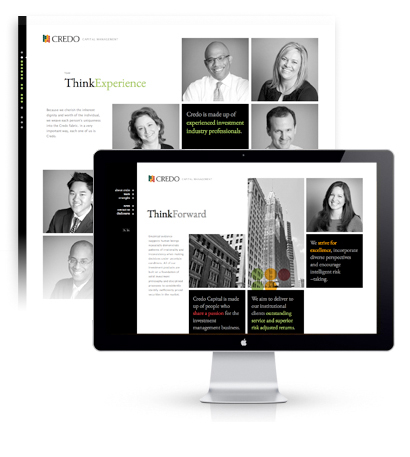 Credo Capital is a capital management firm providing financial planning and investment management services to high net worth individuals and institutions (you know, people who still have capital to manage). And their new website at http://www.credocapital.com/ manifests a brand that's equal parts cool calculation and personal approachability.
Credo messaging leads with rational and non-emotional thinking - call it thought leadership, if you will. Or just call it "don't overreact to the Dow of the day". So the content device of "Think____" (fill in Forward, Experience, Discipline, Performance to suit the section) appears throughout.
Their legacy look and feel draws upon an abstract abacus reference (grounding them in math and analytics) that informs their refreshed logo, and becomes a thematic element throughout the site (with more overt reference in photos here: http://www.credocapital.com/strategies).
The brains behind the outfit are a focus, with a rotation of team members featured approachably on the Home page and detailed bio pages that showcase both personal and professional facets (see this bio)
The site's built with a flexible width that permits re-sizing of the number and arrangement of tiles that appear, depending on browser width - see it in action on Home and Team pages.
A super cool navigation is locked into the left side of the browser - it's always open on the home page, but as you drill down further, the nav minimizes to reveal only their signature abacus dots until you rollover and expand it.
Finally, a robust content management system helps manage posted reports and thought leadership that demonstrate their prowess on an ongoing basis: publications, newsletters facts sheets, and more.
Learn more about Credo Capital Management's new site in our case study.