Cork & Fork Mobile Site Press Release
Posted in Work — Aug 12, 2010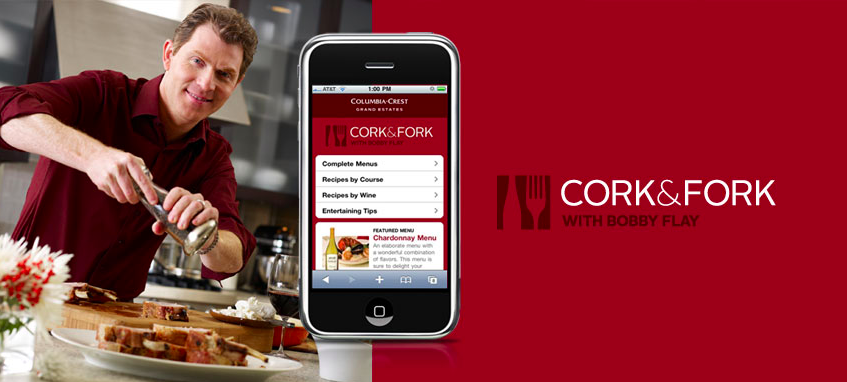 Presented below, in its entirety, and for your convenience, the press release for the Columbia Crest Cork & Fork Mobile site, with our favorite sentence bolded down below in paragraph 5 or 6, so you don't miss it.
Columbia Crest Winery Launches Wine and Recipe Pairing Mobile Site
Columbia Crest Winery Releases Cork & Fork, Featuring Exclusive Recipes from Chef Bobby Flay
PATERSON, Wash.--(BUSINESS WIRE)--Columbia Crest Winery, producer of
Wine Spectator
's No. 1 wine for 2009, today announced the official launch of Cork & Fork, a free wine and recipe pairing mobile site. The site features exclusive recipes from Chef Bobby Flay, wine pairing recommendations, a unique shopping list feature and easy entertaining tips. The site can be accessed by any Internet-enabled phone at
corkandfork.com
. The content also is available online at
columbiacrest.com/entertaining
.
"For me, adding wine to a meal can enhance the overall dining experience, so I've enjoyed partnering with Columbia Crest on Cork & Fork to provide our fans with fantastic pairing ideas"
Cork & Fork presents users with the option to explore recipe and wine pairings in three easy ways. The first option is to browse by menu, which provides a range of four-course menus (appetizer, salad, entrée and dessert) that are comprised of Bobby Flay recipes and planned by the chef. Each course is expertly paired with a Columbia Crest Grand Estates wine. The second method is to browse all recipes by course, making searching for one special recipe or designing a custom menu simple. The last option is to search available recipes by the wine they pair with best, perfect for when a meal is to be planned around a favorite varietal. For those looking to learn more about different wine varietals, background on each is provided. All recipes include a difficulty rating and allow for the number of servings to be changed, based on one's needs. Additionally, users can reference entertaining tips from Flay when planning a gathering.
"For me, adding wine to a meal can enhance the overall dining experience, so I've enjoyed partnering with Columbia Crest on Cork & Fork to provide our fans with fantastic pairing ideas," said Flay. "I hope Cork & Fork users find that the provided recipes, wine pairings and entertaining tips lead to memorable and enjoyable dining experiences."
The recipes can be added to the user's "Shopping List," a feature that stores selected recipes in an easily accessible list for future shopping trips. When the list is accessed and a recipe is chosen, the user is presented with a complete grocery list for the recipe, adjusted to the number of preferred servings. The shopping list features grocery item boxes that can be checked off to make keeping track of what already has been purchased easy.
"Since beginning Columbia Crest's partnership with Bobby Flay three years ago, we've provided consumers with new and exciting ways to enjoy Columbia Crest Grand Estates wines by pairing them with recipes he created exclusively for the winery," said Miles Johnson, senior product manager for Columbia Crest. "Our customers, like so many people, are looking to source information conveniently and quickly via mobile devices, delivering this information in an accessible manner was an obvious choice for the winery."
The site was designed by FINE Design Group, a West Coast digital branding and technology company.
In 2007, Columbia Crest and Flay announced their partnership to demonstrate how simple it is to have a great food and wine experience, everyday. The following year, Columbia Crest and Flay launched the first "Flayvors of Washington" contest and followed in the successive year with a second contest that brought two semifinalists to New York to compete in a face-off cooking challenge, judged by Flay. In addition to the contests, the partnership has included Columbia Crest Grand Estates print advertising campaigns, starring Flay, as well as recipes and wine pairings created by the famed chef.
About Columbia Crest
Founded in 1983, Columbia Crest has grown from a small winery in a relatively unknown wine region to one of the most significant wineries in the U.S. and a major force behind Washington state's emergence as a world class wine region. In 2009, Wine Spectator magazine named the Columbia Crest 2005 Reserve Cabernet Sauvignon the No. 1 Wine in the World on its Top 100 list for 2009, the first time a wine from Washington state has received the ranking. The wine was selected from more than 17,000 wines tasted by editors throughout the year. Over the past 12 years, 15 Columbia Crest wines have been named to the Wine Spectator's Top 100 list. More information about the winery can be found at columbia-crest.com.
Follow Columbia Crest online at:
Facebook: www.facebook.com/columbiacrestwinery
Twitter: www.twitter.com/columbiacrest
YouTube: www.youtube.com/columbiacrestwinery
About Bobby Flay
Chef Bobby Flay's critically acclaimed restaurants include New York's Bar Americain; Bobby Flay Steak in the Borgata Hotel Casino & Spa in Atlantic City; three outposts of his famed Mesa Grill in New York, Caesars Palace in Las Vegas, and The Cove Atlantis in the Bahamas; and Bobby's Burger Palace in Smithtown, N.Y., and Monmouth, N.J. A graduate of the French Culinary Institute, Flay also shares his enthusiasm for food through his cookbooks; his latest, Burgers, Fries and Shakes, was released in April 2009. He hosts a variety of national programs on the Food Network, including "Throwdown with Bobby Flay." Flay regularly informs audiences about seasonal, fresh dishes and ingredients as a food correspondent for "The Early Show" on CBS.
Photos/Multimedia Gallery Available: http://www.businesswire.com/cgi-bin/mmg.cgi?eid=6393370&lang=en.