Chateau Ste. Michelle Winery: A Global Wine Icon Sets A New Digital Standard
Posted in Work — Nov 06, 2013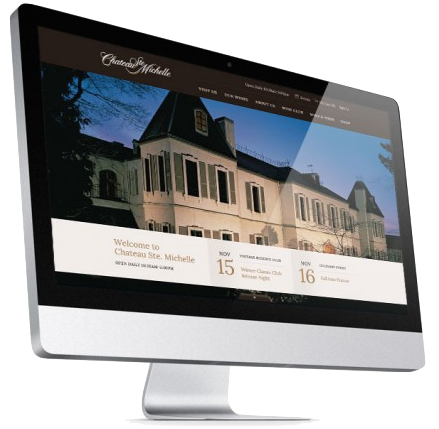 The ongoing digital brand re-invention of highly regarded Ste. Michelle Wine Estates sets a new industry standard with the online presence for Washington State's founding winery, Chateau Ste. Michelle.
A desktop website extends to an integrated commerce experience, responsive wine store, and mobile site all driven from the same content delivery platform that informs other SMWE brands. The result creates a seamless user experience, whether the goal is brand engagement or transaction, on any device.
Now Featuring More Approachability
The digital evolution reflects a change in approach to align the brand's core current customers with emerging new ones. Dramatic imagery of the renowned winery combines with a host of new features and content that transition more formal positioning toward approachability. Like a friend nudging visitors to enjoy the finer things in life, the new presence appeals to a slightly younger, budget-minded customer who still wants to enjoy a great glass of wine.
Navigating For An Integrated Experience
It's a sizable digital destination – careful navigation and cross-pollinating help maintain an intuitive user experience where no more than two clicks are ever needed. Hover over the website's navigation, for instance, and a drawer opens to reveal sub-options, direct links and calls to action to upcoming events, and featured recipes.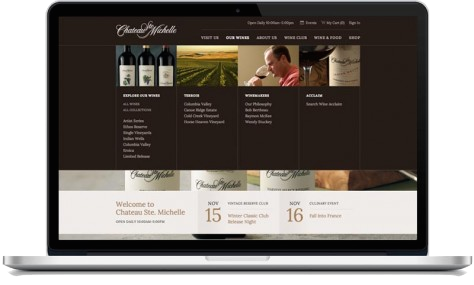 [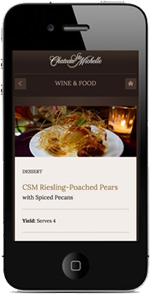 ](http://blog.finedesigngroup.com/2013/11/chateau-ste-michelle-winery-a-global-wine-icon-sets-a-new-digital-standard/csm_phone-150w/ "")It's one small demonstration of how simple site behaviors help connect complementary elements of the holistic Ste Michelle brand story – the estate, wines, recipes, events – so visitors get the full picture no matter which path they take.
Across desktop, mobile, and commerce, Chateau Ste. Michelle can now invite digital visitors to shop, cook, visit, listen (check out the My Chateau Pandora channel), learn, and engage with the brand as never before. And, as with all SMWE brands, it sits atop a robust content management system that seamlessly manages multiple winery websites under one brand roof.