Cerulean: Attitude-Free Wines for Enjoying with Life the Way You Live It
Posted in Work — Feb 05, 2018
Cerulean is a family-owned, Columbia Gorge winery, crafting authentic, old-world style wines made to be pure, natural, and authentic — for enjoying with life the way you live it, and with the people who are a part of it. Believing good wine is an integral part of a good life, Cerulean crafts additive- and attitude-free wine that reflect the best of the Columbia Gorge AVA and pair with real life.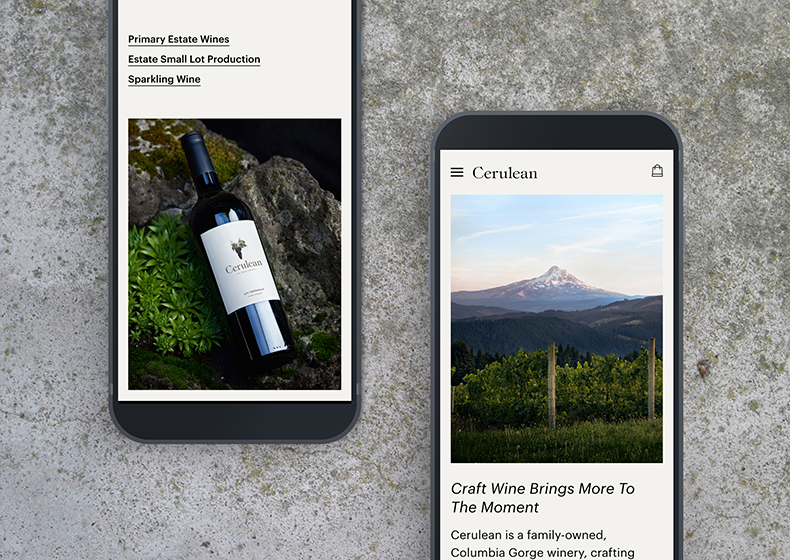 With a candid voice and tone that favors simplicity, the website design adopted a similar feeling, with an editorial layout and natural color palette. Rich, of-the-place imagery is carefully paced throughout, highlighting the beauty of the Columbia Gorge and promoting the winery as a place to experience. The juxtaposition of the brand's two tasting room locations in Hood River and Portland, Oregon is featured on a visit page that encapsulates the occasions Cerulean wine anchors — a brand that welcomes you into a warm community to enjoy social events year-round, brimming with wine, food, and friends.
The new website is the culmination of core brand work that focused on refining an identity, wine labels, and overall look and feel to cut the frills while maintaining a style reflective of the craft that goes into every bottle. For a brand that likes to have fun, its new digital home now shows off the conviviality great wine so naturally bolsters.