Auberge du Soleil: Napa Valley's Finest Property Gets A Full Digital Renovation
Posted in Work — Mar 30, 2011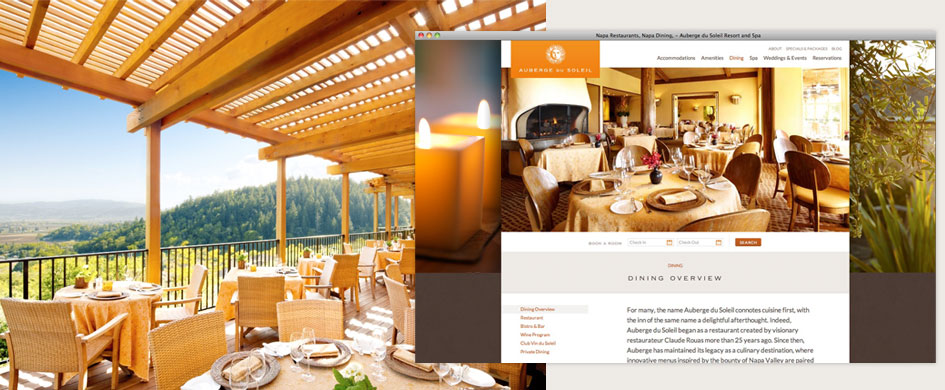 It began as Napa Valley's first fine dining establishment in 1981 and quickly evolved into one of America's most desirable small luxury hotels. Along the way, Auberge du Soleil has become one of the select handful of iconic wine and hospitality brands to embody the signature Napa style of informal elegance, and approachable luxury.
A flagship member of Auberge Resorts Group, Auberge is also a longstanding member of Relais & Châteaux, the most prestigious collection of small luxury hotels and restaurants in the world.
The Auberge website, not unlike recent renovations to the property itself, helps position the company for the next era of the Napa Valley experience. A new generation of discriminating guests are entering their target segment, bringing with them an appreciation for French-accented luxury spa experiences and well-crafted digital experiences alike.
The new Auberge digital ecosystem reflects this new clientele's expectation that a hotel website is more than a brochure; it needs to demonstrate an actual experience by becoming a worthy extension of it.
The site's imagery goes a long way toward taking you to the property, with careful shots that emphasize the feeling of privacy, tranquility, and the Napa Valley aesthetic as never before.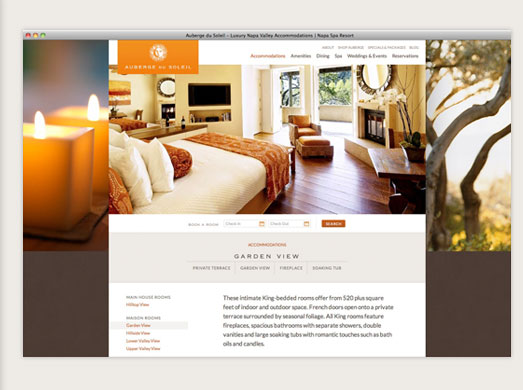 Site functionality becomes an extension of the hotel's vaunted service. Just as helpful staff create a seamless experience on the property, a host of new technology integrations create a fluid experience on the site. An integrated blogging area, booking engine for both hotel and restaurant, and a new e-commerce experience all contribute.
On the content side, simple gestures like a modal FAQ that answers questions without leaving the page, an expanded spa section with packages and events, a new dedicated weddings and events area, and a useful "preparing for your stay" feature help make the site a complete destination.
Brand and content considerations suggested the clean separation between resort and Bistro & Bar websites. Those visiting for a quiet, romantic experience and those coming for a brief happy hour get a distinct and satisfying web experience, just as they would upon arrival at the property.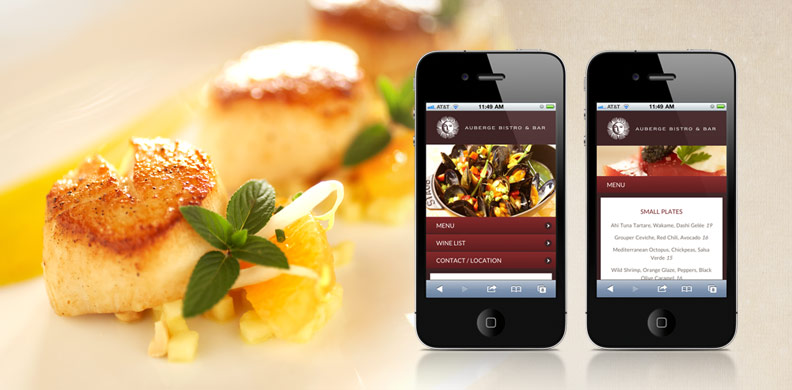 Content and IA considerations were also crafted for optimal search and social media applicability, with an eye toward ongoing optimization and promotional efforts reaching the brand's evolving clientele.
Perhaps the most obvious signal of the Auberge's digital evolution is the mobile site that enables guests and potential guests to view key information on the hotel and bistro via a web-enabled smart phone in an idealized mobile-friendly format.
Now, thirty years after it began, high end hospitality website design helps Auberge appear fresher than ever, and poised for the next few decades at the forefront of Napa Valley brand archetypes.