Anchor Distilling: A New Brand Distilled From A Gallery Of Artisinal Rarities.
Posted in Work — Jun 05, 2012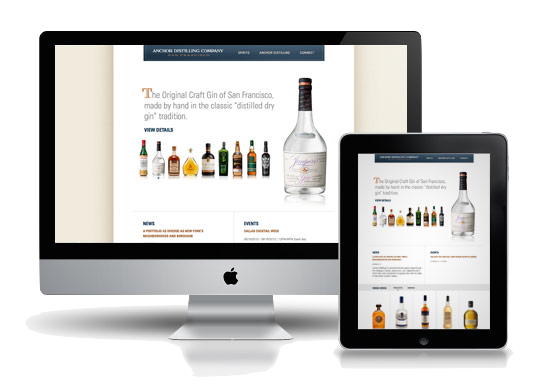 The Anchor name may be more associated with brewing, but San Francisco's Anchor Distilling Co. is making a strong brand for itself. It boasts an artisanal portfolio with over 300 specialty products from nearly 20 countries. All are from multigenerational family-owned companies, sought by connoisseurs for their superior handcrafted artisanal qualities.
Their new comprehensive, educational, and user-friendly website aggregates the multitude of Anchor Distilling brands with a spare and clean ease that's equal parts gallery and encyclopedia. The design allows for easy navigation through Anchor's robust portfolio, brand overviews, product details, tasting notes, fact sheets, information on Anchor Distilling Company, and the history of America's first craft distillery, the Anchor Distillery.
Products can be sorted by spirit type, brand, and country and each spirit's page introduces all products offered within the same brand. Giant product taglines and images celebrate each brand's rare qualities. Features such as the "House Choice" serve up random recommendations, similar to a slot machine, to acquaint users to new spirits and brands in an unpredictable way.
View the site as a consumer, wear your trade hat and the effect will be the same – a fascinating review of rare and interesting distilling brands, displayed in a gallery format that will have you imagining the top shelf behind your new favorite bar.