Alcatraz Excursions: Rock Solid Tour Experiences
Posted in Work — Mar 17, 2011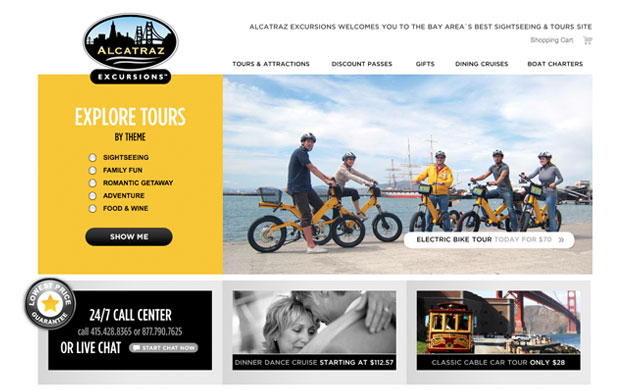 []The key consideration in our development of a new website for San Francisco tour provider Alcatraz Excursions was to demonstrate how this unique travel company delivers first-rate experiences, and separate it from the pack of cut-rate tour operators.
Alcatraz Excursions is the leading provider of uniquely San Francisco experiences designed for every type of traveler – adventure seekers, wine enthusiasts, nature lovers, and all in-between.
In the travel and hospitality industry, where schlocky promotion and keyword-richness often take precedent over a sense that the provider will assure you of an excellent experience, the Alcatraz site stands apart. It's meant to give you that reassuring idea that not only will your vacation dollars be well spent but, more importantly, your vacation TIME will be well spent.
Their new website focuses on selling experiences and merchandise searchable in the obvious ways – by drilling down through the top navigation – or by the thematic topics you might ask for a local's advice about, like "Romantic Getaways" or "Family Fun".
The site sits on top of an arm of a larger FINE application built for Alcatraz Excursions parent company Hornblower Cruises & Events. It demonstrates the extensibility of the platform, since the two sites serve very different purposes, yet share a common data structure. And it integrates the website into the chosen back-end commerce partner.
The site also highlights several in-site contextual promotional elements, some solid application-based search engine optimization, and LIVE Chat support.