Accel Partners Ventures Forward
Posted in Work — Apr 18, 2012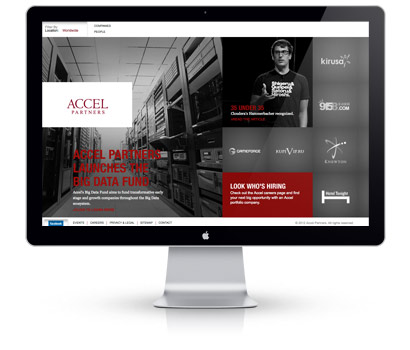 Accel Partners is, by many accounts, the largest global venture capital partnership in the world. Their 30-year history is marked by collaboration with big names in technology, like Spotify, Cloudera, ComScore, Etsy, GroupOn, metroPCS, Rovio/Angry Birds, and Walmart.com, among many others. Most notably, they were among the first investors in Facebook.
What's driven Accel through the years is not so much a focus on their own brand, but on the companies and entrepreneurs they support. Their new FINE website offers a structural reinforcement of that approach, with description of Accel pared down to a bare minimum, and the companies and people (along with some of the news they make together) at the forefront of the visual-driven design and content.
The Home, Companies, and People pages are a flexible and dynamic grid of rollover tiles, served from a central content management system that enables rapid deploy of updates and edits. The Companies portfolio is filterable by stage and industry (important when you've worked with more than 400 companies), while a special algorithm determines tile position in the grid as the screen resizes to fit browsers, including an ideal display for tablets.
Landing pages for Accel's regional presence in Silicon Valley, New York, London, India, and China filter companies and people geographically, unifying Accel's global presence. Global navigation and footer elements, like a unique Facebook update "drawer" button in the lower left, unify the financial services company.
The web design's net effect is the first consolidated look at the Accel Partners brand and the profound impact their companies have made on the global economy.