14 Hands Unbridled
Posted in Work — Jan 19, 2011
[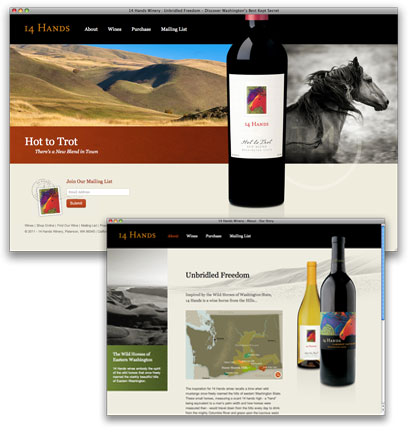 ](http://blog.finedesigngroup.com/?attachment_id=4805 "")
Pop Quiz. The term "14 Hands" refers to:
a) the height of a mustang
b) one of the best kept secrets in Washington state wines
c) FINE's latest launch
d) all of the above
While the real answer is d, this post is more about the new 14 Hands website that crossed the finish line Thursday. Their unbridled vintages (including Merlot, Cabernet, Chardonnay, Riesling and the new Hot to Trot red and white blends) have a brand new stable at http://www.14hands.com/. It's another, and more horse-influenced, pearl in the Ste Michelle Wine Estates strand of brand pearls.
The bold, colorful new site includes images of the starkly beautiful landscape of the Horse Heaven Hills region where 14 Hands is grown. The area used to shelter wild mustangs (hence the name) now has a bold and colorful new website, so you'll also find images of the bold horses themselves.
Check it out.