Like or Dislike? Facebook Rolls Out 'Reactions'
Posted in Search & Social — Feb 24, 2016
We've heard the rumors for months, and after "global research including focus groups and surveys," Facebook announced Wednesday that it had rolled out "Reactions" to all users. Now, when you scroll through your News Feed, you'll have the option of clicking "Like" or selecting one of five additional emoticons to express your sentiment toward a specific post.

Noticeably missing among the "Love," "Haha," "Wow," "Sad," and "Angry" emoticons is the oft-requested "Dislike" button. I'm guessing the Angry emoticon is the closest we'll get to that, but it's possible--likely, in my opinion--that additional emoticons will be added at some point.
The impact on your personal Facebook usage is fairly straight forward, but what does the addition of Reactions mean for brands? Facebook also published a News Feed FYI with some thoughts.
We see this as an opportunity for businesses and publishers to better understand how people are responding to their content on Facebook.
The key phrase in this statement is "better understand," but not for the reason you might think. Sure, if your latest blog post makes your Facebook community "Sad," you might consider adjusting the tone, topic, or writing style for the next one. If a photo draws 2,000 "Loves," you'll be likely to post similar photos in the future. But make no mistake, Reactions will provide a valuable new data set to Facebook, too.
User sentiment is an important metric for brands, and brands spend money--lots of money--advertising on Facebook. The more Facebook can learn about emotional response and real-time engagement, the more options they can offer to advertisers. In other words, your "reactions" to the content you interact with will help Facebook better understand which posts to display in the News Feeds of its users, and how to target advertising content more accurately.
The FYI went on to say that page owners will "be able to see Reactions to all of their posts on Page insights," and sure enough, the terminology was visible in Facebook Insights right away.

Reactions are displayed as one individual metric (replacing Likes) in Insights, but post-level Insights (accessed by clicking the number of people reached on the post) provide an itemized breakdown of Loves, Hahas, Wows, Sads, and Angrys.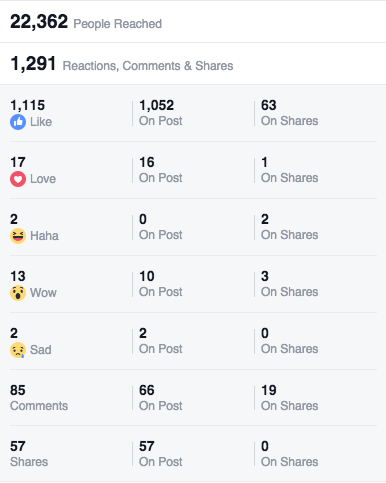 Aside from updating your monthly reports to reflect the additional metrics, you'll now be able to quantify user sentiment toward a specific piece of content. Is it a perfect measurement? No, of course not. But looking at the above example, which was a FINE client's announcement of a new product, Reactions will enable marketers to get a snapshot of users' first impressions.
A social community can be a great tool for soliciting feedback directly from customers. Facebook Reactions add another layer of data to that pursuit, and one that will likely continue to evolve.
So... Like or Dislike? What are your initial "reactions" to the changes? Share your thoughts below.