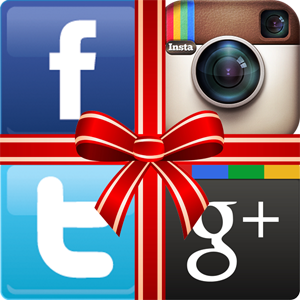 Every year the emails start just after Thanksgiving. From my mom. From my sisters and brother. "What do you want for Christmas?" I'm never good at providing a definitive answer. Music? Ski gear? A new fly rod? A Chia Pet?
This year while pondering the question, I realized that I had a few things on my "wish list" that come from the world of social media. No, I don't want to give Mark Zuckerberg a lump of coal. Just a few simple additions and/or updates to various social platforms that would make great social media stocking stuffers.
The Ability to Edit a Facebook Status
You've probably done it. You share your well-thought-out status from your personal profile, or that clever message sure to dazzle the followers of your brand or business page. Then you see it. A comma is missing. Auto-correct put "your" in the place of "you're." You see one little letter out of place. Too bad. You can't go back and fix it. Meantime, you get 14 likes and maybe a comment or two before you can delete and repost it.
Please, Facebook. You finally gave us sharing functionality for mobile users (a long-time wish list item). How about you let us edit our statuses? We can edit photo captions with a couple of quick clicks. Let's apply this to all posts, shall we? Thanks in advance.
Oh, and one more thing, Facebook. Do we really need a dedicated third-party app for "Birthdays?" I already receive a weekly email (which I don't mind) and see daily notifications of my friends birthdays. I've received three invitations to the Birthdays app while writing this post today (true story). Not a biggie, but we can probably do without this one.
Happiness in Instagram Land - Oh, and Sharing Functionality
Well, well... The Instagram honeymoon appears to be over. After taking a while to warm up to the use of filters with photography, I started using the photo sharing app last spring and eventually found it to be a powerful tool with an active community. I used it for personal photos and recommended it to social media clients. I even wrote a post about how brands can use Instagram.
The image-sharing romance lost a tiny bit of luster last week when Instagram disabled Twitter integration in an effort to drive more traffic to web-based versions of user images. Then this week, the Valencia filter hit the fan when Instagram released a new intellectual property policy, leading to a major uproar across the social media world, with users and brands alike announcing a boycott of Instagram. Co-founder Kevin Systrom responded to the criticism shortly thereafter, assuring users that Instagram "does not claim any ownership rights over your photos."
I haven't deleted my accounts nor suggested that clients do so, but I'll certainly keep an eye on the language in the updated updated policy when it's released. Meantime, aside from a sensible policy for the usage of user photos, I have another item on my holiday wish list for Instagram: Add sharing of images within the app.
The 'social' part of social media is the sharing of content. When we see something we like, or that we think our communities will find useful or entertaining, we share it. This capability has been conspicuously absent from the Instagram app. As a brand, if a user tags you in an Instagram photo and you wish to share it with your community, you have to jump through numerous hoops of screenshots, cropping, and re-sharing, while manually crediting the original user. I'd love to see the ability to click "share" and re-post the photo (along with a comment if I wanted) directly in the Instagram app with the original username still attached to the image. This would essentially function like Twitter's retweet button.
The Ability to Edit Retweets
Speaking of retweets...
In the early days of Twitter, a retweet was done by copying the original tweet, clicking 'reply,' pasting the original text behind the original tweeter's username, and adding "RT" - and perhaps a comment - to the beginning of the new tweet. Third-party Twitter clients like TweetDeck and Hootsuite eventually added this functionality to their respective platforms, saving us the trouble of the copy-and-paste routine.
Twitter re-defined the retweet in 2009 when it rolled out the retweet button on twitter.com, eventually adding the same functionality to its mobile app as well. A retweet in the 'new' format simply re-shares the original tweet, including the original user's avatar, from the retweeter's profile. This format works well for a number of scenarios, and the Twitter community has more-or-less embraced it. One thing is missing, however: the ability to edit and/or add a comment.
The Twitter app for iOS has a "Quote Tweet" option, but I still end up deleting the quotes and formatting the tweet in the 'old' retweet format. Ironically, TweetDeck - which is owned by Twitter - allows for the old 'RT' format for retweets with a simple click of the "Edit/RT" button. I use it quite a bit, and I know a large number of other users do, too. Please Twitter, can we just have this basic functionality across all of your platforms? I promise to retweet photos of fruitcake and eggnog with messages of thanks.
Unique URLs for All Google+ Pages
Looking for your favorite brand on Facebook? Type in facebook.com/brandname and you'll likely land on the page you're looking for. Want to ask a brand or business a question via Twitter? Go to twitter.com/brandname and more often then not, you'll find their Twitter profile.
Google+ doesn't make this nearly as easy. Not only does the lack of unique usernames/URLs on Google+ take away from the user experience, it's just ugly. We often advise clients on best practices for URL structure and presentation, and a 50-character URL filled with numbers isn't on the list. Here's the URL for the FINE Google+ page:
https://plus.google.com/u/0/b/109425275259206923754/109425275259206923754/posts
How about http://plus.google.com/+FINE? Looks much better, doesn't it? Here's the frustrating part: Google announced the rollout of vanity URLs months ago. At the time, invites went to major brands and certain 'verified users.' Unless I've missed something, I haven't received an invite for my personal profile or for any of the pages I manage. I did a quick check, and brands like Nike, Pepsi, and McDonald's aren't using unique URLs for their pages, so has the rollout stopped? One Google+ user recommended filling out a verification request with Google and applying for a unique URL. I suppose that's an option, but so is opening up this feature to all users. How about it Google?
Making a List, Checking It Twice
Santa may know whether I've been bad or good, but either way, I think these simple gifts would make our social communication that much better. I know I've left a bunch of things out, so let me know what's on your social media wish list. What did I miss? And if I don't talk to you beforehand - in person or online - have a very happy holiday season!