The Residences at Seafire Add Davey Award to Growing Collection
Posted in Results — Nov 29, 2017
The Residences at Seafire is among this year's Davey Award winners, claiming a silver from the Academy of Interactive and Visual Arts. Years' long collaboration between Dart and FINE to name, brand, and bring to life the brand promise of modern living on Grand Cayman has been recognized since launch, including a W3 Award, a WebAward, and an Interactive Media Award for Best in Class.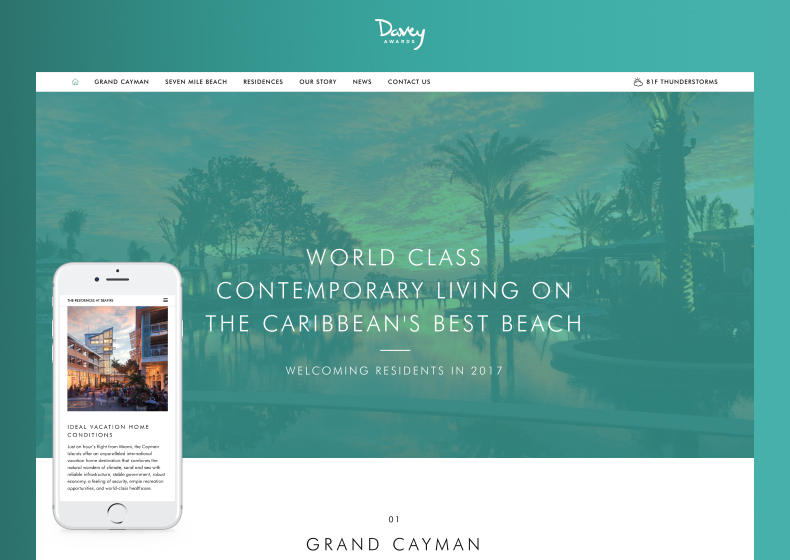 Seafire's website communicates the exclusive lifestyle ownership opportunity alongside the hotel property and amenities, creating an emotional connection. An asymmetrical, editorial layout frames and mirrors the boundless feel of the property, using custom photography, illustrations, and videos to show, tell, and sell the experience of modern living at Seafire.
Congrats to all.
*About Davey Awards
*With nearly 4,000 entries from across the U.S. and around the world, the Davey Awards honor the finest creative work from the best small agencies, firms, and companies worldwide. The Davey Awards is judged and overseen by the Academy of Interactive and Visual Arts (AIVA) — a 700+ member organization of leading professionals from various visual arts disciplines,dedicated to embracing progress and the evolving nature of traditional and interactive media.
Credits:
Agency: FINE
Designer: Joe Flory
Creative Director: Tsilli Pines
Project Director: Ashley Bird
Strategist: Caroline Moloney
Developer: Aaron Ransley
Client: Dart Real Estate