Spectrum Equity Wins Best in Class at IMA Awards
Posted in Results — Mar 14, 2017
Spectrum Equity and the FINE team picked up an important award this week at the 2017 Interactive Media Awards - Best in Class in the Financial Services category. The site earned an overall score of 494 out of 500, including perfect scores of 100 in Content and Feature Functionality.
Spectrum Equity is a leading growth equity firm that's provided capital and strategic support to high growth information economy companies for over 20 years and their new digital home speaks to the quiet confidence of their shared success. The minimal aesthetic and paced interaction of the website makes way for Spectrum's value to speak for itself, simply and clearly. The headlines on each of the top-level landing pages follow a cadence similar to chapters in a book. The story's reinforced with small details of interaction and user experience like elegant fade-in transitions that reveal key information (portfolio company tiles, news headlines, etc.) in a cascading effect.
The fully responsive website also serves as proof point to Spectrum's technology awareness. Special attention to seemingly small elements, like easy filtering of investments, approachable photography of team members, and outsized headline copy help these sections form an effective bridge with their partners of tomorrow.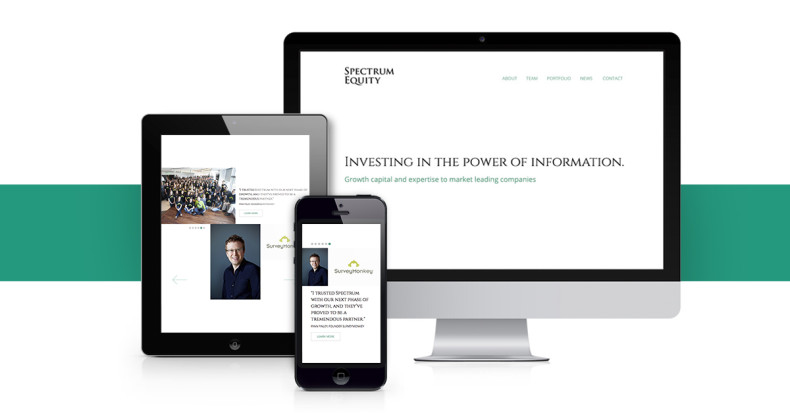 Credits:
Agency: FINE
Designer: Verity Kent
Creative Director:Tsilli Pines
Project Director: Caroline Moloney
Developer: Niles McGiver
Content Strategist: Steve Fine
Client: Spectrum Equity