Graphis Branding Win: Rebel's Guild Restaurant & Bar
Posted in Results — Aug 22, 2018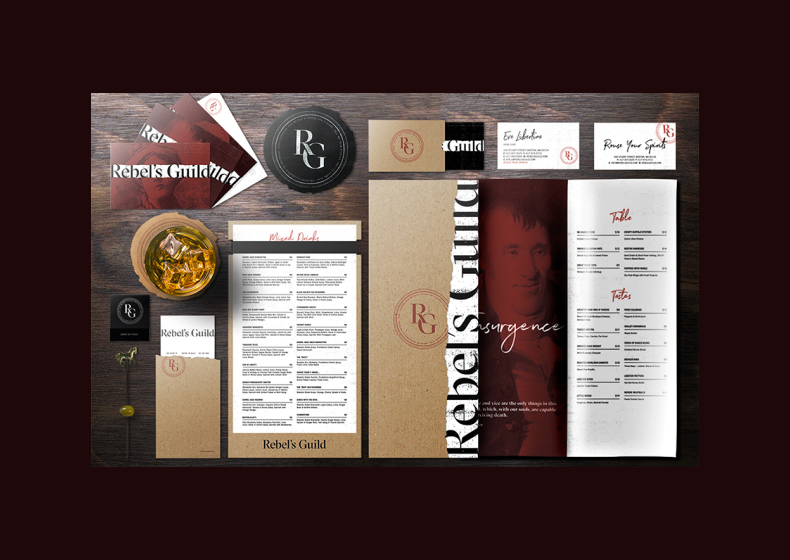 Rebel's Guild restaurant & bar in Boston is a playful conspiracy of witty pub fare and rebellious spirits, and encourages guests to join the underground and expand their minds with fellow contrarians. It's a safe haven for diverse points of view — an intellectual salon with a playful wink.
It's also now a winner of the Graphis branding awards, receiving Gold for its identity, collateral, and menu design. Since 1944, Graphis has honored talent across design, advertising, photography and art/illustration for both digital and print, and is known for its industry magazines, annuals, and books.
Recognized for its unexpected story, Rebel's Guild new brand takes shape as a secret society with a gritty polish. Leveraging the interior design, where provocative masonic influences play alongside colonial details, the name, brand identity, and copy take a stand, ignite a sense of secrecy, and encourage camaraderie. The ID has a torn-from-the-headlines feel, gestural type depicts a new revolution through personification, and color is minimally distributed among collateral and menus to create contrast.
Credits
Creative Director - Kenn Fine
Designer - Mehran Azma
Brand Strategist - Caroline Moloney
Project Director - Allyson Marrs