Kimpton Rolls Out Yoga Mats and Reels In Adrian
Posted in Results

The Kimpton Hotels & Restaurants Yoga Mat Campaign has won a top honor in the 2013 Adrian Awards, the Hospitality Sales & Marketing Association's most prestigious marketing award. The integrated campaign, including multiple print and online components and a viral video courtesy of Portal A, is assured a Gold and will be eligible for platinum and Best In Show honors during the February awards ceremony in New York City.
The Adrians are an especially high honor because they're more than a mere fashion show - judging looks at the full case study of campaign strategy and results along with the creative tactics and execution.
The campaign is another step in Kimpton's ongoing brand marketing evolution, dramatizing their commitment to world-class perks and guest wellness with a focus on their new "yoga mat in every room" promise (supplemented by a custom "roll-out" service so it's ready on arrival.
The campaign imagery, courtesy of a custom photo shoot, demonstrates the many ways to "find in-room peace" with poses that suggest yoga integrated with family, business, and leisure time. The images were used to spread the good news via the Yoga Landing Page of the Kimpton Hotel website, framed prints in the hotels, and personal tags on every yoga mat. And the video takes it to its logical extreme to show just how much you'll fall in love with the new yoga mat.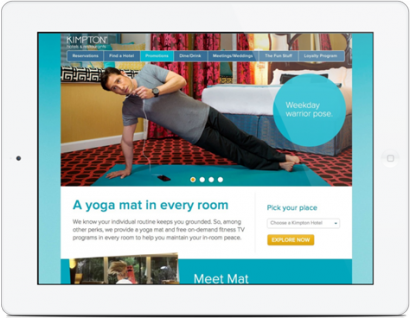 Stay tuned for more on the campaign and award results as the February awards date approaches. And be sure to look for your yoga mat, or have one rolled out for you, the next time you find yourself at a Kimpton. Namaste.