Fifth Wall Website Wins GDUSA Award of Excellence
Posted in Results
Fifth Wall and the FINE team won a 2017 Award of Excellence in web design from GDUSA's American Graphic Design Awards.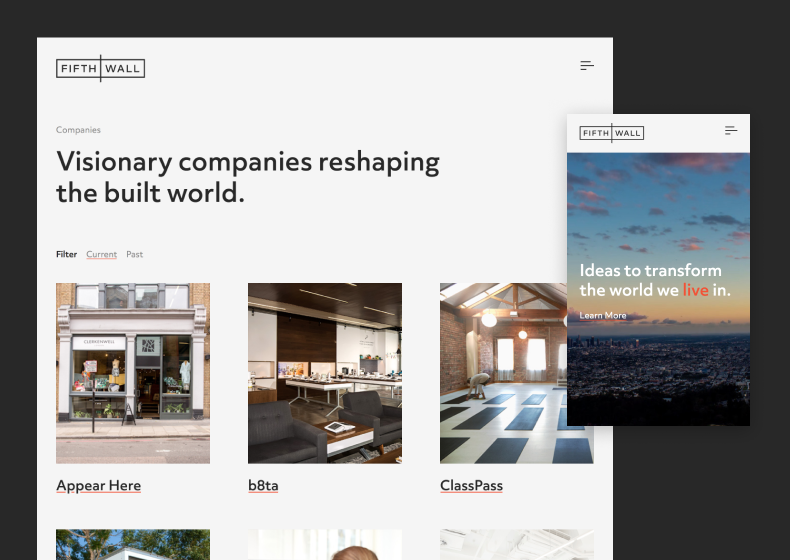 This GDUSA Award is the latest recognition for Fifth Wall, which previously received the Communication Arts Webpick of the Day, a 2017 WebAward for Outstanding Website and a 2017 W3 Award. The global brand launch in May 2017 also garnered coverage from TechCrunch, Forbes, and VentureBeat.
With a unique goal to deliver technology for the "Built World," Fifth Wall focuses on tech investments that are transforming the real estate, hospitality, and travel industries. Their new digital brand dramatizes the connective tissue between these worlds and Fifth Wall's position at the center of a new space altogether.
GDUSA has sponsored competitions to celebrate excellence of creative professionals for 50 years. GDUSA's American Graphic Design Awards is their flagship award competition and open to agencies, corporations, non-profits, and students. It's also highly competitive: 15% of applicants are selected for an Award of Excellence from about 10,000 entries.
Credits:
Agency: FINE
Designer: Joe Flory
Creative Director: Tsilli Pines
Strategist: Steve Fine
Project Director: Sara Stockett
Information Architect: Lisa Wright
Developers: Aaron Ransley and Jason Fine
Client: Fifth Wall
SaveSave