The Making Of FINE's New PDX Office
Posted in Personal — Aug 07, 2013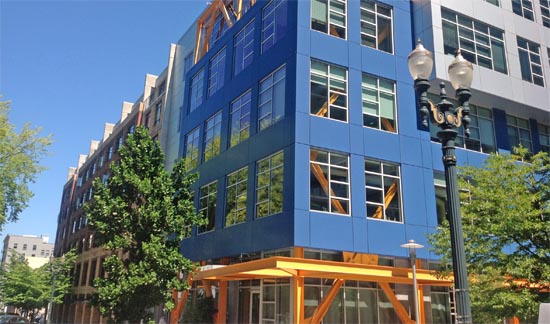 It's been awhile since FINE moved into its new Portland digs. For those who haven't seen it, here's a tour, and a little background on how it came to be.
*Moving On Up
*
Cozy. Comfortable. We increasingly heard these words from clients, friends, and colleagues in reference to the FINE's first Portland home on Marshall Street. They're good words, and reflective of the down home spirit we established in our San Francisco office long ago. But as our Portland team continued to grow, it was time to look for a new PDX home.
A larger space was just one of the factors we considered. Another 'c' word - collaboration - was equally important in our vision for a new workspace. Our goal was clear from the outset: Build a physical space that uniquely represents FINE's growth and evolution, while creating a rich, collaborative environment that focuses on the sharing of ideas and facilitates our agency's creative process.
Our search led us to a newly-renovated building in the Portland Arts District. The open floor plan was a blank canvas, offering us the unique opportunity to mold and shape the space into the environment we hoped to create.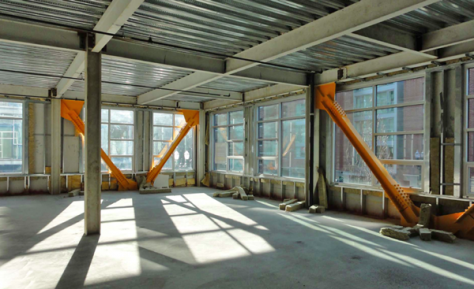 Collaboration in Thought and Action
Before we could begin, we needed partners to help us refine our vision and execute the build-out of our new home. The process itself became an exercise in collaboration. Our design partner, Boora Architects, brought our sketches and concepts into focus, while the team at Howard S. Wright made them a physical reality.
"Collaboration was the inspiration behind the space, but has also been a key component in creating the space," said Kenn Fine, partner at FINE. "The collaboration with Boora and Howard S. Wright has been great, and we're very pleased with the results."
The finished space is a physicalization of our goals and requirements. The open floor plan encourages communication and collaboration while integrating technology that allows strategy, content, and design to co-mingle seamlessly. The sum of these parts is a combination that will enable FINE to continue evolving as a new breed of agency for the digital age.
"Our previous office did not allow for the physical proximity needed for the spontaneous sharing of ideas," said Fine. "Our new space offers a plethora of places designed for quick breakout sessions that are comfortable and rigged with technology."
A Room with a View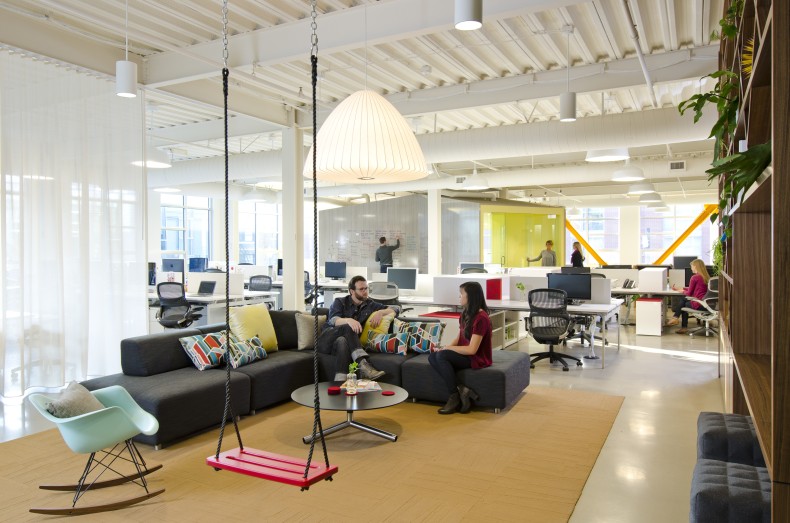 Walls of windows on two sides of the building let the outside in, lending a translucent quality to the setting that takes advantage of natural light. Warm wood and other accents in bright, happy tones blend naturally with the environment. A new HVAC system was installed to ensure comfort in all seasons, and a balance of both open and closed spaces maintain the spirit of collaboration while offering privacy when needed.
In the Zone
The collective vision for the new FINE PDX is defined by five unique zones:
The Hospitality Zone welcomes people in, and is oriented to provide visitors with a view of the entire office immediately upon entering.
Adjacent to the entrance is the FINE PDX Bistro, with furniture organized to define the area without the use of physical walls. The kitchen island is designed to be a functional element, but can also be used for breakout meetings.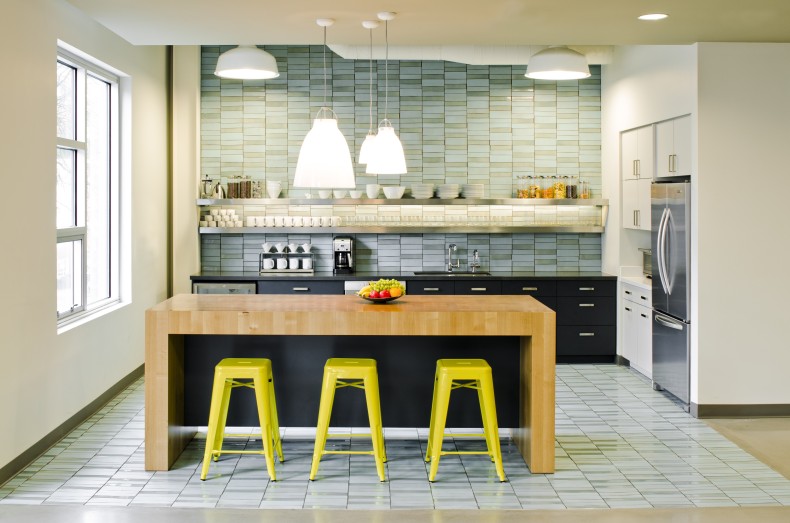 The "Sales Barn," comprised of two private offices and a private conference room, follows a design inspired by the classic wood barns found along the Pacific Coast Highway - with a modern twist. The silver tones of weathered wood blend with floor-to-ceiling glass at each point of egress to create a visually unique environment that enables a full view of the space from inside or out. The exterior is writable and magnetic, forming a "Collaboration Wall" for whiteboarding sessions, impromptu idea sharing, or afternoon doodling.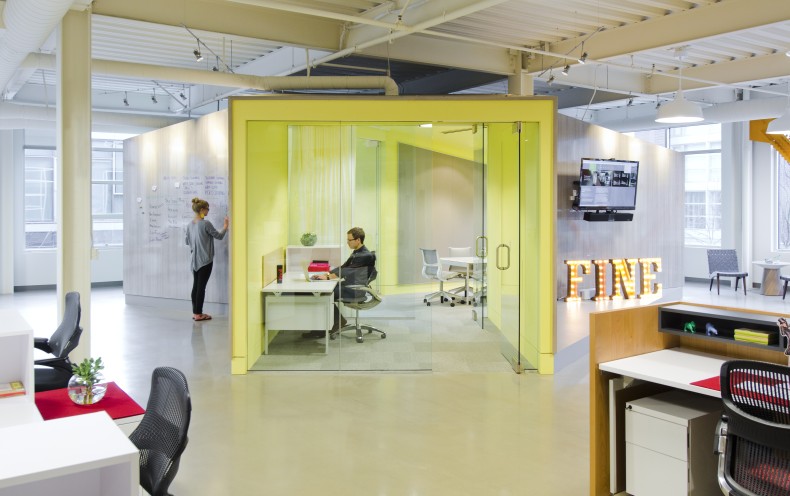 Accented with a custom bookcase and shelving system designed and built by local a craftsman, the Library is another space that is defined by furnishings rather than walls. The carpet, chairs, and sofa that create a visual perimeter without the constraints of physical walls.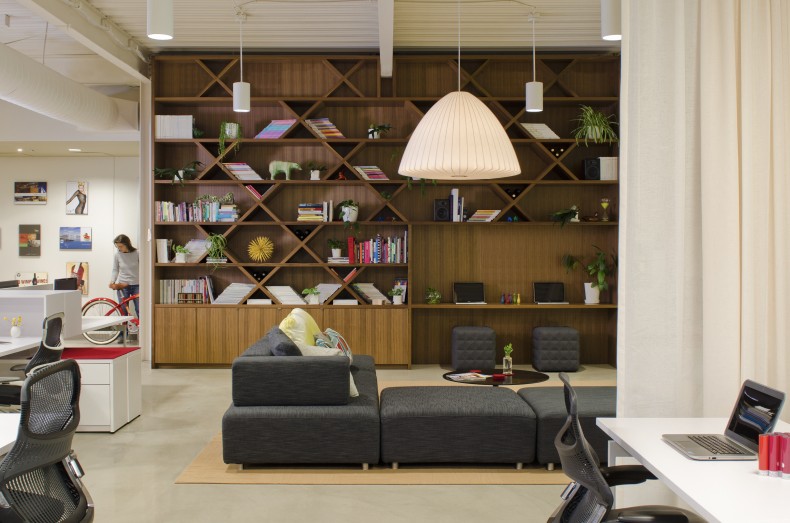 The Productivity Zone is exactly as the name suggests: A bright, open environment where our talented team of designers, developers, strategists, Sasquatch wranglers, and premium coffee testers create engaging content and concepts for our clients.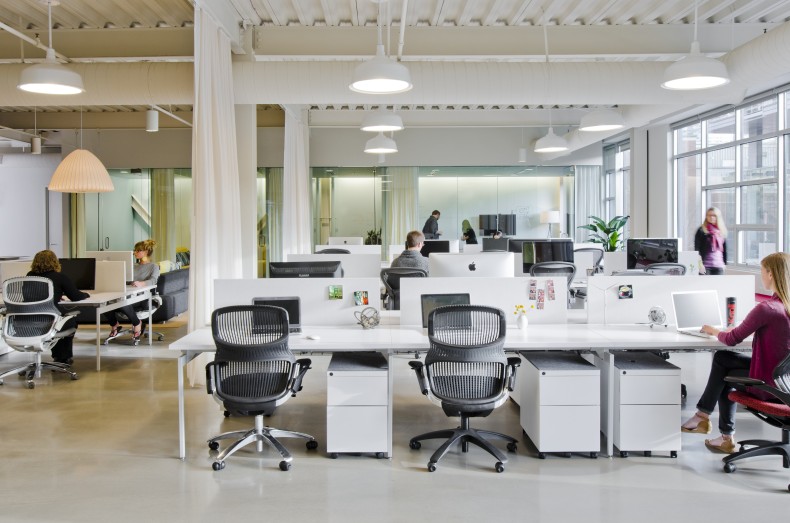 Three meeting rooms were added along the south wall, each outfitted with technology to make communication and sharing easier. Breakout sessions can transition on the fly, as digital content streams can be transferred from one meeting room to another with one simple click.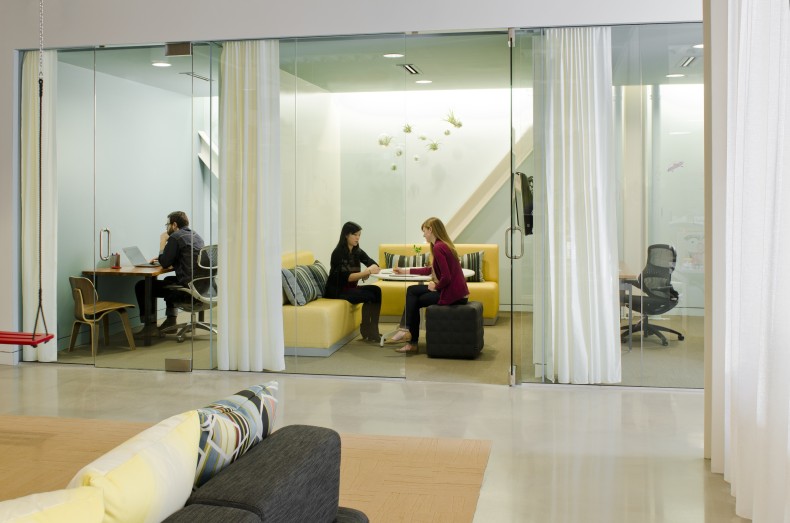 "The integration of technology with this space has been mentioned by everyone involved in the process," said Josh Kelly, another FINE partner. "If you're going to stake your claim as a digital age agency you want your space to back you up. You may also want the creativity inspired by ping pong shot-making."
Some Final Fun Touches
Each unique space within the FINE PDX office was designed with multiple use in mind, whether a strategy session on the Collaboration Wall, refining a design idea over a cup of coffee in the Bistro, or visiting with a client in the Library. When there's a break in the action, a game of pool or ping pong on the convertible game table builds camaraderie.
The personality of the FINE PDX team can be spotted in other unique elements, such as the swing - or "suspended chair" - which comes in handy if you have a moment to hang around. You'll also find the FINE PDX Cruiser, a red bicycle that not only adds a classic flair to the office, but can be used for a quick errand or trip to another neighborhood locale.
We hope you'll visit us soon in our new PDX space, or San Francisco or Traverse City if it's more convenient. Let us know what you think, or drop us a note at hello [at] finedesigngroup [dot] com to arrange a visit.