The FINE Job Shadow Program: Find Your Future in a Shadow
Posted in Personal — Jan 20, 2017
*NOTE: Applications are now open for 2018. Please check our Careers page for our new Q1 2018 application announcement and to sign up for our mailing list. *
Remember when apprenticeship was how people found their calling and learned to ply a trade? You probably don't – mostly, that sort of experiential education's long been replaced by book learning. Or has it?
At FINE, our Job Shadow program has become a small nod to the past, and a big part of the way we look at the future of our craft, and our industry. We believe that the best way to get a sense for your calling is to be immersed in it, however briefly — to live the language, experience the workflow, meet the people, eat the snacks. And we believe it's our job to help people realize their aspirations and best selves in this way.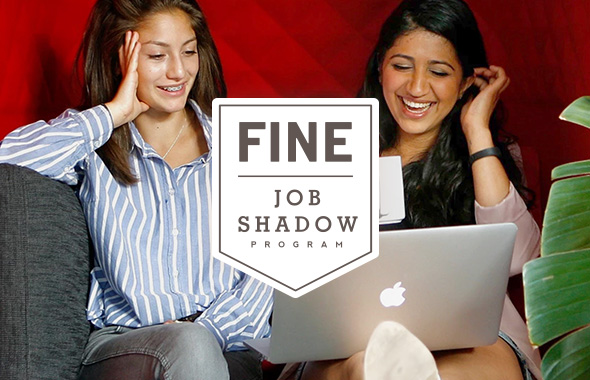 It's something we've been doing for decades, albeit informally. Our shadowers can come from chance encounters and peer referrals, the synchronicity of chance interactions with ice cream scoopers, French cheese farmers, yoga classmates, futsol teammates, second cousins twice removed – anywhere. Our antennae always perk for someone who might be inspired by a shadow and, of course, for those who proactively reach out to us with interest.
What's exciting is that some of our early shadowers have stepped into their own spotlight. We think of Elie Mongé, a French exchange student who was among our earliest shadowers, and later an intern. He refers to his FINE experience as "my most life-changing event," and has cultivated the passion developed alongside designers, developers, and strategists into a career as a Design Director at Google, and now as co-founder of startup Maize. Not too shabby.
*Why Shadow? *
Extended internships often devolve into menial jobs. And "Bring Your Kid To Work Days" typically aren't meant to preview a career. But our Job Shadow program is the chance to experience a day in the life of a FINE employee, to discover practices, roles, and tasks you may not even know exist. It provides a vision for what it's like to do what our people do every day. A paid internship program might touch 1-2 people a year; a more abbreviated Job Shadow gives us the space to inspire many more while keeping them free to observe and imagine.
So our program is ongoing, and flexible to align with shadower needs and schedules to fill (typically) one full work day. Most shadowers are high school (with parental okay) or college students. Sometimes, others who write compellingly of what's driving their curiosity are also considered. Shadowers apply here.
Experience a day in the life of a branding agency in Portland, OR with digital chops and mythical creature mascots
Find the trailhead to your career path; envision where it's headed
Enjoy frank conversations and worksessions with management and, smarter still, entry-level staff
Establish your professional network; even request a portfolio review (if applicable)
Watch "the FINE magic happen," in real time. Granted, some days we suck but that's part of the lesson.
Eat some, not all or even a large percentage, of our snacks
If you're a potential shadower, apply here or feel free to write us anytime.
And if you have a company of your own, know that our reasons are not all selfless. We believe industry veterans hone their craft by mentoring – it forces you to examine your work, return to basics, stay grounded in a "beginner's mind." And it helps the whole industry by building diversity and committed practitioners, especially among underrepresented groups. In truth, all companies should do it. But we've just got this here one company, so we'll try and change the world from here.
"And the point is to live everything. Live the questions now. Perhaps then, someday far into the future, you will gradually, without even noticing it, live your way into the answer." ― Rainer Maria Rilke, Letters to a Young Poet