Real FINE Human: Jackie Smith-Moore
Posted in Personal — Jun 28, 2017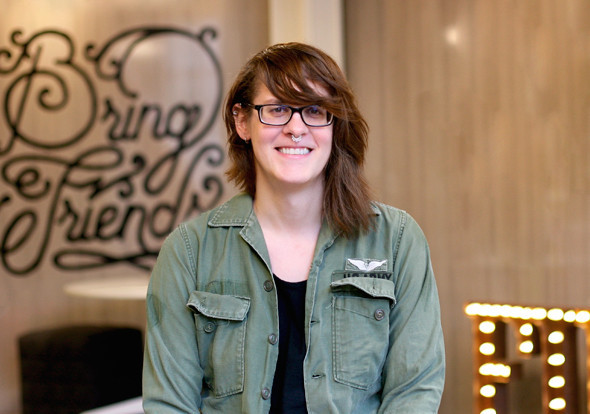 *We often introduce new FINE folks here on Mingle, but what about the team members who've been here for awhile? Get to know the real humans keeping it real behind our work. *
Meet Jackie. She's been building the Internet on the development side of things at FINE for a little more than a year.
What are you favorite treat-yo-self treats?
Chili Cheese Fries at Nick's Famous Coney Island
Irish Nachos at Proper Eats
Anything at Toro Bravo
What would you do if you were invisible?
Spy on world leaders, influence global affairs, and drive my enemies mad.
What tunes are bumpin' in your phones?
Portugal the Man – Evil Friends
Spoon – They Want My Soul
What are you doing when you're not working?
Baking, bouldering, and rolling a d20.
What would your friends say you're most "known for"?
Tearing down their self-esteem.
Where do you come from?
Indiana.
What is your ultimate vacation?
Great food, a Kindle with a ton of books, some sturdy shoes, and the open road.
What's the one thing that annoys you the most?
Aggressive drivers.
What is your favorite type of work to create?
Work for other people.
What is your special talent, or your weird quirk?
Encyclopedic knowledge of Dungeons and Dragons. I think that counts as both.