Useful & Amazing Stuff We Learned At Engage 2017
Posted in News
With a stellar line up of industry thought-leaders, SEMpdx's Engage is not only fast emerging as one of the best digital marketing conferences in the industry, but it's also one of the more intimate, where you can mingle with marketing giants without being engulfed in a sea of trade-show booths.
FINE's Clay Walsh (Marketing Director) and Sarah Mackenzie (Director of SEO & Analytics) were recently on hand for Engage 2017, where they appreciated both the intermediate-to-advanced track of most sessions, and likewise, the highly evocative carpeting. Check out the sound bites below.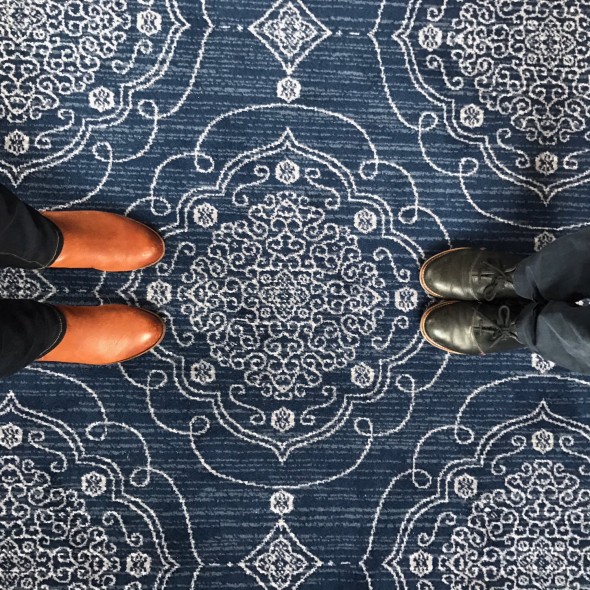 **"The URL will no longer be relevant."**
[ - Cindy Krum](https://twitter.com/Suzzicks "")
What? An Internet without URLs? You read that correctly. In her mind-blowing keynote talk, Cindy Krum brought forth speculative, yet highly persuasive, arguments that Mobile First indexing is really the first in what will eventually positioning Google as an AI company. The Internet is becoming so enormous that Google not only needs a viable long-term strategy for "indexing" it all, but also for presenting this info to users. Think returning content in feeds and APIs, similar to how Google MyBusiness, Knowledge Graph, and Images work. It's heady stuff, but you can read more at MobileMoxie.com.
**"Alternative SEO facts are that local reviews and links don't matter."**
[ - David Mihm](http://www.davidmihm.com "")
In fact, even one review on Yelp can help a listing break into the local one box. However, reviews, links, and citations are just one part of what David cites as building Entity Authority. Part of Google's move from "things to strings," search results are increasingly becoming a layer of presentation data where now, more than 50% of mobile searches aren't even resulting in a click. Google's likely measuring everything from search volume on your brand (words are the new links) to, eerily, increases in your website traffic... even from paid Facebook campaigns.
**"Your strategic goal is engagement. Google has a complete snapshot of it."**
[ - Dana DiTomaso](http://kickpoint.ca/author/ditomaso/ "")
Local SEO — and search in general — is moving toward a world where user engagement is measured with your website and with your brand's entire digital footprint. Dana cites the Google knowledge panel as your engagement health check, but notes that Google likely measures engagement across everything. This means number of clicks through to your website to reviews, business check-ins, social mentions, Google users engaging with your newsletter, and potentially even Google calendar scheduling at your location. Also eerie.
**"It could take your developers 6-8 week to deploy AMP — but it's worth it."**
[ - John Shehata](https://twitter.com/jshehata "")
In a galvanizing speech, John told/warned webmasters they were missing out big time if they weren't testing out Accelerated Mobile Pages. They may not technically be a ranking factor, but that doesn't mean they can't help drive considerably more traffic to your website — especially if you make it into search carousel listings. 62% of all mobile search traffic goes to AMP, and this will only accelerate.
**"You are what Googlebot eats. (And that includes your title tags.)"**
[ - AJ Kohn](http://www.blindfiveyearold.com "")
This presentation on enterprise SEO had so many good sound bites, from "parameters are the devil incarnate" (preach) to "404s are junk food" (pretty much), but our favorite takeaway was AJ's straightforward yet brilliant tip about title tags. You need to look at Google Search Console for correlation, or lack thereof, between impressions and click-through-rate. If there's a gap, you need to rewrite your titles — and we'd argue, descriptions, too — for improved relevance and traffic.
**"You cannot win anymore by posting content organically on social media."**
[ - Anna Hrach](https://twitter.com/annabananahrach?lang=en "")
This is something so many people do not want to hear (or pay for), but let us reiterate: most sessions at Engage 2017 centered not only around how to create the best content, but also around how to make your best content work for you. In social channels, this means investing in it financially, as well as intellectually.
**"Don't assume high-quality content is good content."**
[ - Isaiah Walker](https://www.sempdx.org/engage/speakers/isaiah-walker/ "")
Ouch. That one hurt. But it's an important point — just because you've got a page that gets tons of views, it means nothing if it doesn't convert. Similarly, mediocre content is just as bad as bad content. In fact, it's worse, because you probably put a lot of time and energy into it, and all for "meh."
**"You should put a value on everything in Google Analytics. Even if it's just $1."**
[ - Kane Jamison](https://www.kanejamison.com "")
Not setting goal values is something many marketers are guilty of, especially when the value of a form completion is more nebulous than the value of a sale. But Kane asks, would you pay $1,000 for 1,000 engaged email subscribers who voluntarily signed up? Then start with a value of $1. You can take it from there, and you'll know so much more. Speaking of page value, try segmenting your content by page type, which allows you to evaluate by site section instead of one-by-one.
**"Everyone should be saving their Search Console Keyword Data."**
[ - Leslie To](https://twitter.com/itsleslieto?lang=en "")
Leslie pointed out how Google Search Console is an essential complement to GA (yes, you need to start thinking about impressions if you aren't already), and how important it is to regularly export your stats. Google Search Console only keeps up to three months at a time. Check out this Moz post on how to automate backups.
SUMMARY
Engage 2017 was an exciting reflection of Portland's highly dynamic, talented, and collaborative local digital marketing community. So much so that it wasn't only PDXers or even Oregonians that attended, but speakers - and marketers - from all over the country. We recommend looking into all that SEMpdx has to offer, from regular events for members and locals, to next year's Engage Conference in 2018.