Digital Project Managers - Unite!
Posted in News — Apr 07, 2014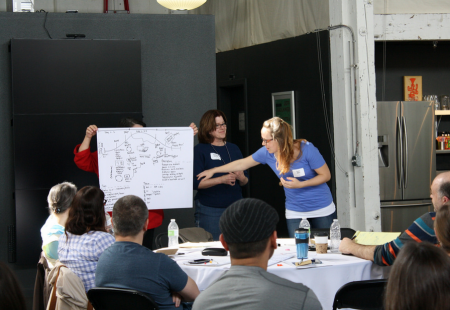 On a recent Saturday afternoon, close to 50 attendees gathered in a former warehouse space in inner NE Portland for a meeting of the minds. And a few FINE minds from our project direction team were among them.
Project Managers. Producers. Directors. Whatever the role is called in the modern era of the digital agency, they all share a common set of challenges: How can we help our teams and clients produce great work, when the technology, expertise, budget, and needs shift so rapidly?
There's no PMBOK (Project Management Body of Knowledge) for digital PMs and the traditional agency org chart isn't any help either. To help answer these questions, Brett Harned of Happy Cog and Adam Edgerton of Metal Toad organized a Saturday afternoon workshop to bring together local digital project managers, as a part of the lead up to a 3 day Digital Project Management Conference in Austin, in October.
A few of the favorite take-a-ways:
Tools: Don't rely on tools. We left our laptops at home, and created beautiful project plans with sharp minds and sharp pencils. Over the course of a project, you'll be called on to fill all the "thinker" roles on your team: the dreamer, the debator, the disruptor, the do-er… Practice those skills.
Process: Process shouldn't trump requirements. Ultimately, project management is everyone's responsibility. Perhaps we should change our title to "project facilitators."
People: It was a refreshing and inspiring afternoon, if for no other reason than to be reminded that there are other people out there who share your challenges and understand your pain. While the approaches to solving those problems were diverse, it was clear that project success come down to one thing: People. It's people who care, it's people who do, it's people who sometimes need a high-five.