Design Week Portland: A FINE-tinerary
Posted in News — Mar 31, 2017
As official web sponsor (and home to Design Week Portland Founder Tsilli Pines), FINE hands are all on deck for April's Portland-wide festival, with around half a dozen FINE folks involved in organizing.
We're also the official DWP web shepherds, after migrating to our own Fae CMS this year (and later hosting a hackathon to enhance the front end, too).
Beyond planning, we also participate and attend, and have chosen a few events throughout the week where we'll be either speaking or listening. Hope you'll join us at all these FINE Doings and other fun stuff:
[caption id="attachment_18920" align="aligncenter" width="640"]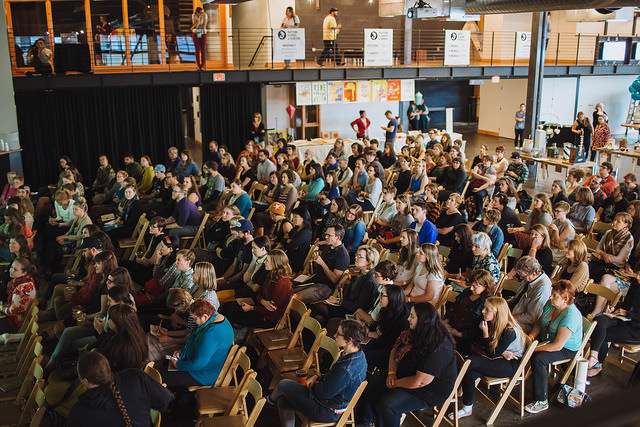 Photo by Jeremy Pair[/caption]
Tuesday, April 11, 11:30 a.m. - Creative Director Kenn Fine presents keynotes this month's American Marketing Association Luncheon, admonishing marketers about "Avoiding Brand Stank." FINE is the official sponsor of this special Design Week-inspired event. Bridgeport Brewery, 1313 NW Marshall Street.
Saturday April 22, 7 - 11 p.m. - DWP Opening Party. There'll be drinks, music, and, of course, live sketchings of attendees by local illustrators. Like, they're actually going to draw you, and what you look like. Pace yourself, it's gonna be a busy week. The Redd, 831 SE Salmon Street.
Monday April 24, 6 - 7:30 p.m. - An Infusion of Tea & Design. Taste speciality teas from Smith Tea, and absorb keen branding insight from designer Steve Sandstrom. Smith Teamaker, 110 SE Washington Street.
Tuesday April 25, 6 - 8 p.m. - The Creative Resistance's panel on design as activism speaks to the community's growing desire to connect our work with social causes. The Beauty Shop, 2500 NE Sandy Boulevard. Suite A.
Tuesday April 25, 7 - 9 p.m. - WeMake sketchXchange hosts Los Angeles-based illustrator and designer Tuesday Bassen for a night of inspiration, process, and fun (you have to help with that part). Portland author and illustrator Lisa Congdon moderates the panel. Portland Art Museum, 1219 SW Park Avenue.
Wednesday April 26, 4 - 7 p.m. - FINE's Design Week Open House. We may be biased, but it's our list. We'll provide the refreshments, a pop-up shop, and surprises that may or may not be planned quite yet. You provide the company.
Thursday April 27, 5:30 - 8 p.m. - Not, Not Creative. A panel of creative minds from leading agencies (including FINE Project Director Ashley Bird) discusses the role of project management, producers, account management, and strategy within the creative community. Sponsored by Fuzzco. Spartan Shop, 1210 SE Grand Avenue
Thursday April 27, 6:30 - 8:30 p.m. - w(HERE) we are aims to move beyond a discussion about the lack of diversity in the creative industries and become part of a movement to showcase and grow the visibility and impact of creatives of color and LGBTQ+ creatives working in Portland today. The Redd, 831 SE Salmon Street.
Thursday April 27, 6 - 8 p.m. - Using Story to Create Design that Matters aims to empower our inherent storytelling abilities to create more compelling design. In other words, ditch the marketing jargon and get back to telling real stories with real words. Thread, 1001 SE Water Ave., Suite 120
Friday April 28, 6 - 11:55 p.m. - Drink N' Draw. Designers. Developers. Games. Jolby hosts art battles judged by game developers, while VR stations offer up virtual painting. Organized by Portland Indie Game Squad & Patreon. The Evergreen PDX, 618 Southeast Alder Street.
Bonus Doings:
Letterpress Printers Fair (Sunday, April 23, 11 a.m. - 5 p.m.) and Calligraphy for Designers Workshop (a benefit for the ACLU on Tuesday, April 25, 6:30 - 9:30 p.m.) are great events for connecting what we do today at FINE with the rich history of graphic design. Plus, you can get away from those screen things and use those other tools: hands.
Calligraphy for Designers: Tuesday, April 25, 6:30 - 9:30 p.m., The Cleaners at the Ace Hotel, 403 SW 10th Avenue.
Letterpress Printers Fair, Sunday April 23, 11 a.m. - 5 p.m., The Redd, 831 SE Salmon Street.
Tuesday April 25 - Tuesday is an all-around awesome day for women, trans women, and non-binary creative people and entrepreneurs. Three events at The Redd are all for you.
4:00 PM - Boss Ladies PDX
6:30 PM - Ladies' Night
9:00 PM - Badass Women Unite
Thursday, April 27, 7 - 10 p.m. - 99 Bottles of Art on the Wall. Grab a beer, a Sharpie and design your own label. No word on which comes first, the drinking or the drawing, or which order makes for the better label, but we'll be there. Baerlic Brewing Co., 2235 SE 11th Avenue.
Thursday, April 27, 4 - 7 p.m. - New New Crusher Court open houses. Once an old auto garage and now converted into a dozen retail and creative office spaces, meet the neighbors and bask in the maybe-sun-filled courtyard. Brett Schulz Architect and Guerrilla Development host. 2500 NE Sandy Blvd, Suite C.