Design Week Portland 2018: Our Pick 3 Picks
Posted in News — Apr 30, 2018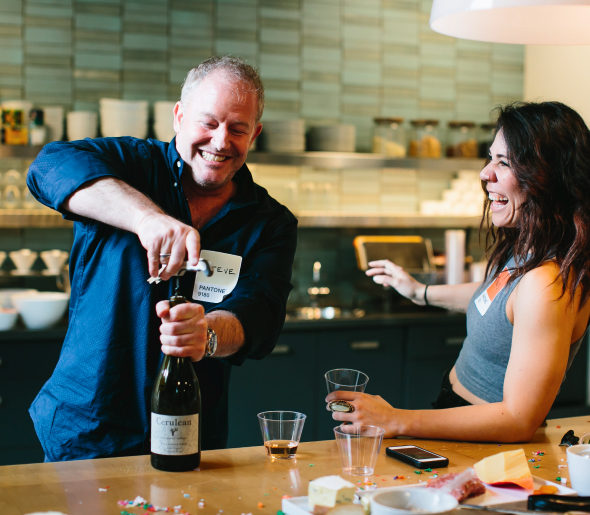 It happened again. Another Design Week Portland is in the books. Well over 100 events, open houses speckling the map, our own estimable FINE event, and that website to maintain. The operative word is "phew!"
In short, we're all-in on it, right up to the involvement of FINE Creative Director Tsilli Pines as DWP President extraordinaire.
But as the dust settled and all who pitched in caught up on a little shuteye, we asked 3 of our staffers to hit their favoritist part. Here's what they said.
Joe Flory, Design Director
Event: The Future of Tools for Creators
Host(s): Greg Lutze founder of VSCO, Andrew Allen founder of FiftyThree (Paper & Paste), Noah Levin Design Manager at Figma, Lizy Gershenzon founder of Scribble Tone, Gabe Paez founder WILDSPACE, and Michael Yamartino VP of Product at InVision.
Nelson Cash assembled a stellar panel of some of the best and brightest to shed some insight in to how their new, innovative design tools will shape the future of design, making this a must go to for anyone in the creative industry. Some universal takeaways:
Design tools are all about collaboration - the days of a designer sitting in a room and only interfacing with their computer are over.
Automation will become a much larger factor in helping designers focus on the big ideas and not sweating the details.
Tools will continue to be laser-focused at being simple to use in accomplishing user needs.
Mackenzie Pion, Studio Manager
Event: Momo Pixel talks Game
Host: Creative Mornings (Design Week edition) at W+K
Super inspiring talk from a creative who has busted through many barriers and made a name for herself (literally and figuratively), having merged her personal persona with her current life's work. Key takeaways:
Go with it**. Not everything career related has to have a pre-emptive link to the next, but it will all generally make sense and connect in the end.
Be stubborn about your ideas...especially if they're dope.
Ashley Milligan, Art Director
Event: Portland Design and History Walking Tour--Portland Bridges
Host: John Doyle
My favorite event of DWP2018 was the walking tour of Portland's Bridges (which was also the first event to kick-off the festival). It was led by by the most fascinating man in Portland, John Doyle, who if you spend more than two minutes with you'll want to become fast friends-- if not BFFs for life. I enjoyed the tour because of John's knowledgeable enthusiasms for the subject matter (and all things historical Portland) as well as getting to know the history behind the evolution of the city I love and am proud to call home. And even though it rained on our group of 20+, we had such a fun time and now truly understand the history behind the many beautifully designed bridges of Portland.
See you next year, DWPers.