Design Director Joe Flory Shares His Design Obsession with Computer Arts Magazine
Posted in News — Jun 01, 2018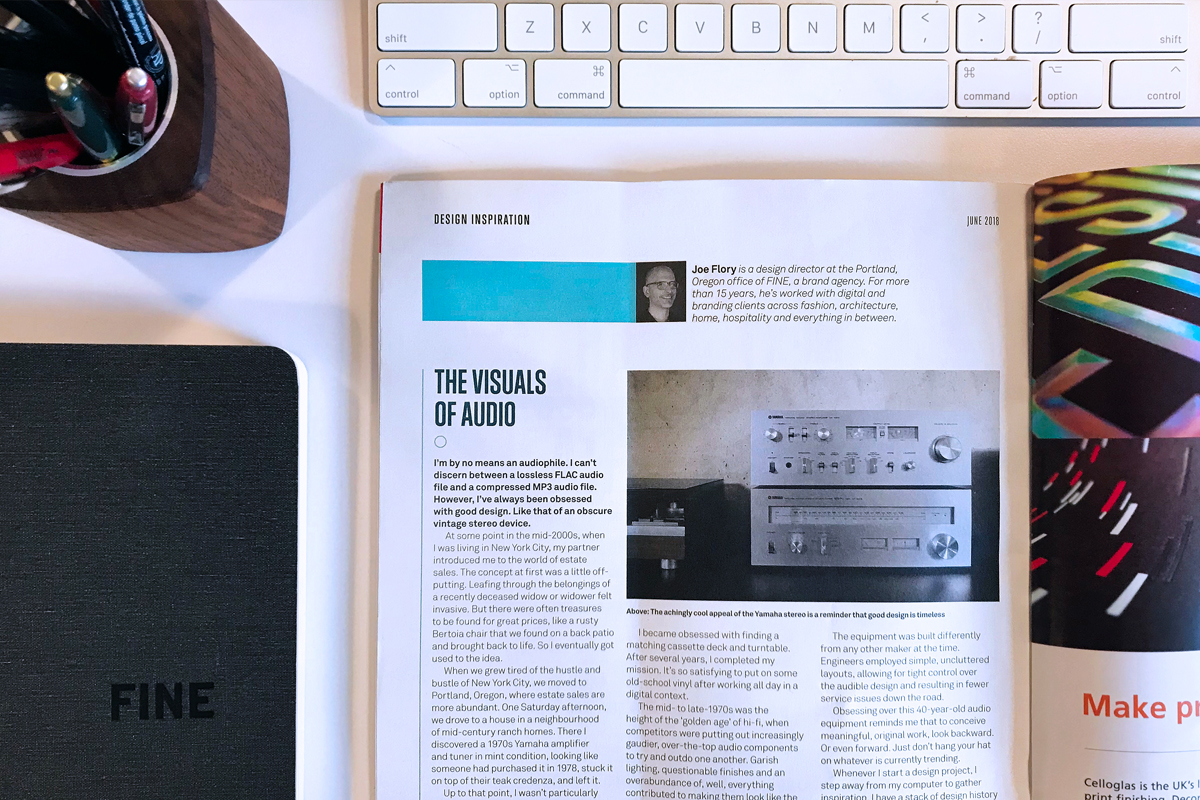 Computer Arts magazine profiles FINE Design Director Joe Flory in its June print issue, with Joe sharing how design inspiration can be found in the unlikeliest of places — like estate sales — and in the most-obscure of things — like vintage audio equipment.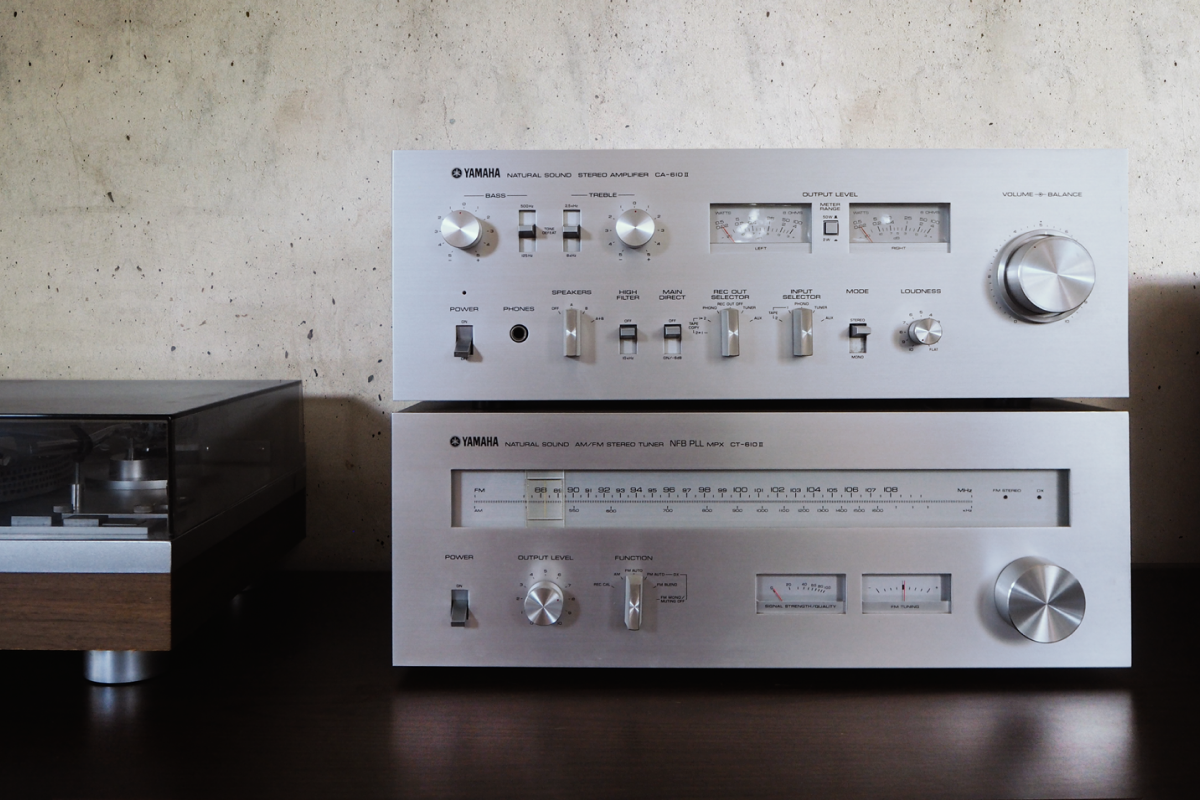 The Visuals of Audio
By Joe Flory
I'm by no means an audiophile. I can't discern between a lossless FLAC audio file and a compressed MP3 audio file. However, I've always been obsessed with good design. Like that of an obscure vintage stereo device.
At some point in the mid-2000s, when I was living in New York City, my partner introduced me to the world of estate sales. The concept at first was a little offputting. Leafing through the belongings of a recently deceased widow or widower felt invasive. But there were often treasures to be found for great prices, like a rusty Bertoia chair that we found on a back patio and brought back to life. So I eventually got used to the idea.
When we grew tired of the hustle and bustle of New York City, we moved to Portland, Oregon, where estate sales are more abundant. One Saturday afternoon, we drove to a house in a neighbourhood of mid-century ranch homes. There I discovered a 1970s Yamaha amplifier and tuner in mint condition, looking like someone had purchased it in 1978, stuck it on top of their teak credenza, and left it.
Up to that point, I wasn't particularly interested in vintage audio equipment. Sure, I had a number of new, modern receivers over the years that were perfectly functional, but something about the Yamaha gear struck me.
It radiates with a high-quality build. Made from materials like metal and wood, the design contrasts the synthetic materials in today's electronics. The amp; heavy and built like a tank. The knobs; shining metal. Switches and toggle buttons adorn the components with bouncing VU meters giving visual feedback. Design flourishes – like the weighted volume and tuning knobs, or the power switch that makes a satisfying thunk when flipped – are experiential in their aesthetic.
I became obsessed with finding a matching cassette deck and turntable. After several years, I completed my mission. It's so satisfying to put on some old-school vinyl after working all day in a digital context. The mid- to late-1970s was the height of the 'golden age' of hi-fi, when competitors were putting out increasingly gaudier, over-the-top audio components to try and outdo one another. Garish lighting, questionable finishes and an overabundance of, well, everything contributed to making them look like the dated relics they are today.
Yamaha, however, took a completely different approach – one that was more restrained and sophisticated, both in terms of visuals and audio engineering. The lighting of the amplifier, tuner and tape deck is a soft, subtle yellow green. The typeface used on the metal faceplates, tuning dial and meters is an elegant, stoic sans serif, akin to Aldo Novarese's typeface, Novarese.
Meanwhile, the sound is natural and true-to-life. To achieve this, engineers would initially present their prototypes to a panel of musicians, and if the musicians believed the sound quality represented a natural reproduction of a musical instrument, the device got the green light.
The equipment was built differently from any other maker at the time. Engineers employed simple, uncluttered layouts, allowing for tight control over the audible design and resulting in fewer service issues down the road.
Obsessing over this 40-year-old audio equipment reminds me that to conceive meaningful, original work, look backward. Or even forward. Just don't hang your hat on whatever is currently trending.
Whenever I start a design project, I step away from my computer to gather inspiration. I have a stack of design history and fine art books on my desk, as well as a collection of vintage ephemera. Recently, an obscure book jacket design from the early 20th century sparked an idea, and informed the look and feel for a website I was working on. It's important to look for sources outside of design for inspiration, whatever that may be. For me, that means travelling, observing architecture and history and documenting these details with my camera. These experiences feed my work and inspire an original voice.
They're also a reminder to ask myself: will the work I'm doing now stand up to scrutiny in five years? Ten years? As a designer, I focus on creating work I believe in, with the hope it lasts for other generations to believe in too.
-
Originally published in the June print issue of Computer Arts magazine.