Steve Fine: Digital Insights from Your BFF
Posted in Insights — Dec 08, 2013
This is the first in a series of introductions to the people behind the FINE. First up is partner Steve Fine. We sat down with Steve for a Q&A to get his thoughts on his work, and the digital world.
Q: Hello. What's your specialty at FINE?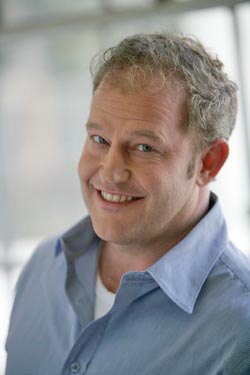 Steve: I'm your best friend at FINE. Says so right on my card. We're officially BFF's as soon as you get one. It's up to me to know your story, your situation, your challenges and opportunities – all the things folks here need to know about you, and a few you probably didn't know about yourself. Then I've got your back, making sure you get friends and family service and a world-class result. So yes – I'm your best friend. And a sworn enemy to anything that endangers the celebratory toasts that should continuously punctuate our relationship.
*Q: *How do you see the digital realm evolving?
Steve: Well, everything is getting smaller. Screens, access points, content blocks, free time, attention spans; you name it, it's shrink-sizing. You have less time, less space, and less mind-share to connect with people. In 3 years, we could be designing experiences for watches or glasses, and we're already thinking mobile first now. That means you'll need to change your digital tune. The symphonic website masterpieces we composed in the past will get a bit more minimalist. You'll use only the right notes at the right time and place. It's all about making the complex seem simple.
*Q: *What is the most valuable branding asset a company can have and why?
Steve: Of course the answer is any of our company's most profitable project types! But no. The answer's a thing we help people with, but it's not technically a thing at all. The answer is (drumroll) a message. Having a clear, simple message (or story, or promise, or however it is shaped), is the most valuable branding asset a company can have. From a simple core message, a complex network of brand elements can grow, the message serving as the core hub of a central heartbeat that glues all brand elements in orbit. See? You can even take a horrible mishmash of metaphors and they make perfect sense if you have a clear message.
*Q: *What do you think, are the biggest challenges companies face moving forward in the digital world?
Steve: It's simply the rate of change. There has been a total digital revolution – everyone knows it, but not everyone understands it. The importance and complexity of digital is growing so fast, very few can adjust their expectations to meet the realities of the change. So it's the ability to envision what's necessary, let alone what's possible, that's toughest for most companies. There's a tendency to fall back on the comforts of old marketing analogies – a website is just a brochure, social and mobile are just media channels. But digital challenges how your company's organized, how it gets customers, how it delivers its products, and…everything. So if you're not thinking and budgeting for it on that level, you're not yet in the game.
*Q: *What are the most common questions folks ask you when they are looking to work with FINE or looking to re-brand?
Steve: 1) "How much will it cost?" 2) "How long will it take?" 3) "Can you do it both faster and cheaper?" Then there's a thoughtful pause and they ask: 4) "Also, do you have any ideas about what exactly IT should be?"